Food
Diamonds for Dessert: カメ のメロン パン Turtle Melon Pan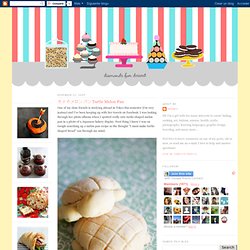 One of my close friends is studying abroad in Tokyo this semester (I'm very jealous) and I've been keeping up with her travels on Facebook. I was looking through her photo albums when I spotted really cute turtle-shaped melon pan in a photo of a Japanese bakery display. Next thing I knew I was on Google searching up a melon pan recipe as the thought "I must make turtle-shaped bread" ran through my mind. If you have no idea what メロンパン a.k.a. Melon Pan is, let me explain. First of all, in Japanese "pan" means bread.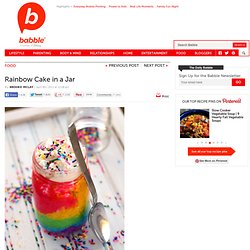 I've always had a penchant for sunshine in a jar. Doesn't the very phrase itself, "sunshine in a jar," roll off your tongue and fill your mouth with magic? While I've never yet found myself a sunshine in a jar, I think we may have just concocted it in our kitchen tonight. In this simple recipe, a basic white cake is turned into a slew of bright colors, baked to perfection, then topped with a creamy white frosting.
Recipes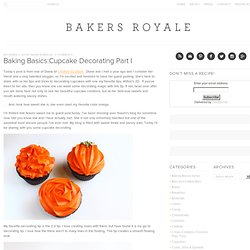 Today's post is from one of Diane of Created by Diane. Diane and I met a year ago and I consider her friend and a very talented blogger, so I'm excited and honored to have her guest posting. She's here to share with us her tips and tricks to decorating cupcakes with one my favorite tips, Wilton's 2D.
Baking Basics:Cupcake Decorating Part I
How to Fill A Cupcake
Clearly I make a lot of cupcakes; adorable, portable and always a crowd favorite, another reason to love cupcakes is that they are pretty simple to bake and decorate. I'm kind of lacking in the patience department, so it's much easier for me to pipe frosting onto a cupcake than onto a full-size cake. I've also become a big fan of filling my cupcakes with a little somethin'-somethin'. Whether it's lemon curd , ganache or chocolate chip cookie dough , people (and I) really enjoy biting into a surprise center. I've filled a lot of cupcakes and have tried a bunch of methods for achieving that perfectly filled center. I find that actually removing a piece from the center of the cake rather than using a filling tip without removing any cake actually works better.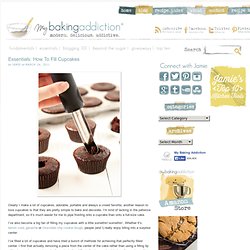 Cupcakes
Created by Diane
Prepare the vanilla or chocolate cupcake recipe. Spread each cupcake with a thin layer of meringue buttercream tinted with a few drops of green food coloring. For the small eye, attach a mini marshmallow and create a pupil by painting on melted chocolate (microwave 1/2 cup chocolate chips for 1 minute). For the large eye, push the chocolate chip, tip down, into a regular-size marshmallow, then cut Gummi tape for an eyelid.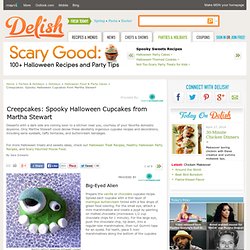 Halloween Cupcakes - Spooky Martha Stewart Halloween Cupcake Ideas
Shindig Parties TO GO: December 2011
Over the weekend I was busy finishing up gift projects for neighbors, friends, and my kids' teachers and friends. Always on the lookout for fun, homemade gift ideas, I sometimes make my own Chex Mix in large batches to give away at the holidays. With the baking involved in making Chex Mix, however, it was going to take a bit more time than I had to give this year. Instead, I came up with a new, no-bake version that actually turned out really yummy.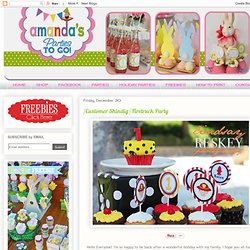 Cupcake Tutorial « Decorate This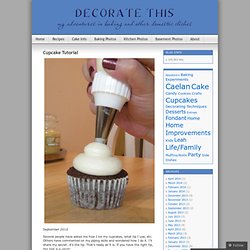 September 2010 Several people have asked me how I ice my cupcakes, what tip I use, etc. Others have commented on my piping skills and wondered how I do it. I'll share my secret…it's the tip. That's really all it is.
— the Cupcake Social – Your one-stop-shop for Pretty!
Best-Ever Cupcake Icing Kit™
Have you ever looked into a cupcake display case in a shop, and taken a look at all the gorgeous swirls and artfully placed dollops of icing? Have you ever asked yourself, "I wonder how they do that??". Hold on to your piping bags people - you're about to learn (and it's not as hard as you might think)! Materials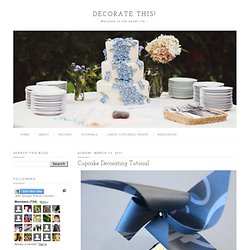 Decorate This!: Cupcake Decorating Tutorial
How to Fill A Cupcake
That sure is a mouthful to say…and eat!! hehe, I know, I'm a big nerd…but honestly…these are really good! Every summer, I have this serious urge to bake, and of course, summer is the one time of year that I don't have tons of people to give all my baked good to.
What Anne Makes: Cupcakes with Raspberry Sauce, Cream Cheese Filling and Chocolate Ganache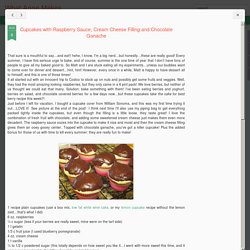 LittleMissBacon | A Perth Food Blog | because everything tastes better with bacon...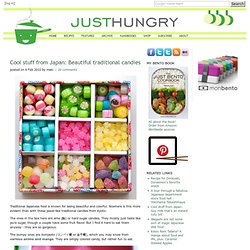 Traditional Japanese food is known for being beautiful and colorful. Nowhere is this more evident than with these jewel-like traditional candies from Kyoto. The ones in the box here are ame (飴) or hard sugar candies. They mostly just taste like pure sugar, though a couple have some fruit flavor. But I find it hard to eat them anyway - they are so gorgeous. The bumpy ones are kompeito (コンペイ糖 or 金平糖), which you may know from various anime and manga .
Cool stuff from Japan: Beautiful traditional candies
In Japan, people worship pretty while collecting all the consumers to buy products unless they violate the laws of their country, all you can do is cute. Some Japanese restaurants are pretty, which implements the idea that the food and made a series of culinary arts. Bento is which is filled with typical Japanese dishes to eat in a single portion takeout or home.
Cute Japanese Food | Cute Japanese Food Stickers | Cute Japanese Food Art
Japanese Cute Foods Sunday, April 26 th , 2009 | In Foods & Beverages | In Japan, people are worship everything cute, everything can be made cute as long as no against their country's law while attracting consumers to buy their products. Some Japanese restaurants has implement the cute ideas to their foods, and made the food as a series of arts. After a research, there are more Japanese cute foods at e-obento ~ The Japan's cute food gallery. Below are some creative cute foods that I have received from my personal email few days ago, enjoy viewing the cute foods photos now.
Japanese Cute Foods | LimCorp.net
cute, food, funny, japan, japanese food
cuteobento