Jewelry&Craft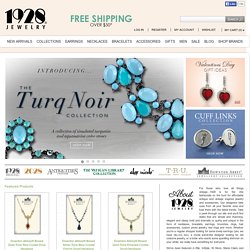 1928 | Vintage Jewelry, Vintage Bridal, Fashion Costume Jewelry
For those who love all things vintage...1928 is for the chic fashionista on the hunt for affordable antique and vintage inspired jewelry and accessories. Our designers take cues from all your favorite eras and fuse them with the latest trends. Take a peek through our site and you'll find styles that are simple and charming, elegant and classy, bold and dramatic or quirky and unique in the form of necklaces, bracelets, earrings, brooches, rings, hair accessories, custom photo jewelry, key rings and more.
Urban Star Organic Rosebud Plugs - Urban Star Organic Jewelry - Organic Plugs - Body Jewelry
Product name:Fashion Rabbit Long Pendent Necklace This lovely pendent necklace features the cute rabbit design and comfortable long pendent style! Definitely thid lovely necklace can be regarded as your favourite gift for your friends and family! Not only the best quality but also the cheapest price are provided for you to select as favourite!
Fashion Rabbit Long Pendent Necklace at online cheap fashion jewelry store Gofavor
SHINY INT'L JEWELRY CO.,LIMITED Wholesale Jewelry Pendant,China Pendant Wholesale,Pendant,Wholesale China Pendant, Wholesale Pendant ,Pendant Wholesale,China Pendant,Fashion Pendant,handmade Pendant,Gemstone Pendant, pearl Pendant ,Gem Pendant,Semi-precious Stone Pendant,Sterling Silver Pendant,Shiny Jewelry is one of the biggest manufacturer and wholesaler of gemstone beads and handmade jewelry Necklace Pendant.Our products are exported to all of the word.Outstanding quality,the lowest price,efficient service,fast transport,large quantity in stock,just meet your purchasing need.
beads jewelry-China Necklace Wholesale,China Bracelet Wholesale,Wholesale China Beads,Semi-precious,Gemstone Beads and Jewelry Findings,Shiny Jewelry and Beads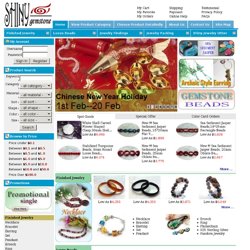 Sale Items | Coconut Jewelry
Product Name: Fashion Light Goddess Sign Rhinestone Long Chain Pendant Necklace This necklace features the light goddess sign on the gold medallion. It is a great gift for yourself or a loved one and makes the perfect addition to any jewelry collection. This necklace is perfect and exquisite. 30 Days Refund Privilege *GoFavor.com is dedicated to delighting you with your purchase and our services.
Fashion Light Goddess Sign Rhinestone Long Chain Pendant Necklace at Online Jewelry Store Gofavor
Handmade Jewelry and Unique Jewelry | Robert Redfords Sundance Catalog