Bières
Get flash to fully experience Pearltrees
L'information inutile du vendredi : commander sa bière dans différentes langues. La dernière information inutile du vendredi m'a donné l'idée de celle-ci ici présente.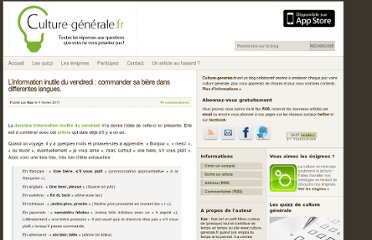 Our project started about 2 year ago when we had the brilliant idea to re-launch an old beer brand from Paris and propose to the Parisians an original, fresh and savoury beer, the beer Gallia .
L'idée paraît simple, encore fallait-il l'avoir. Guillaume Roy et Jacques Ferté, jeunes entrepreneurs de 26 et 27 ans, sont les heureux parents de Gallia, une bière blonde parisienne d'origine tchèque, fraîche, légère mais suffisamment houblonnée pour avoir du caractère.
On Saturday, September 18th, with the tapping of the first keg by Munich Mayor Christian Ude and a cry of "O'zapft is!"