Crafts
Facebook. DIY T-Shirt Quilt. Before I explain this project, I need to set two things straight.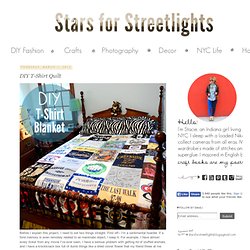 First off-- I'm a sentimental hoarder. If a fond memory is even remotely related to an inanimate object, I keep it. Head Scarf Tutorial. After many requests, I finally made a tutorial on how to tie a simple head scarf.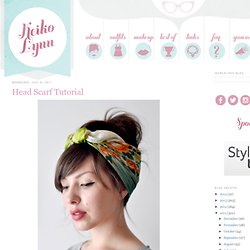 It's really, really easy. I did this without looking in the mirror, so that should tell you how easy it is. Intricately Patterned Animal Illustrations. It would be hard to tell from these strikingly detailed animals but artist Iain Macarthur got his start drawing cartoon characters.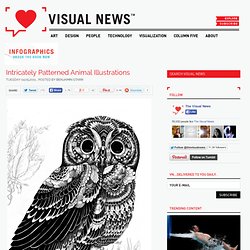 Now he carries his sketchbook on the bus, to the cafe and everywhere else as he includes more realism and in this case pattern in his illustrations. See more of his animals (and even some cartoons) at iainmacarthur.carbonmade.com. See Also INCREDIBLE 3D ILLUSTRATIONS JUMP OUT OF THE SKETCHBOOK Via: hypemuch.com. 유진 박's pin:Bookbinding tutorial. Cook Healthy Mozzarella Sticks. Photo credit Who says our favorite cheesy foods have to be off limits?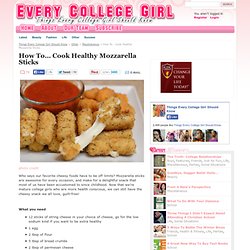 Mozzarella sticks are awesome for every occasion, and make for a delightful snack that most of us have been accustomed to since childhood. How to do a perfect knot. When you're traveling or running to dinner, there's nothing sexier than twisting your hair into a top knot.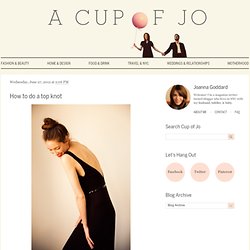 It gives you the ease and nonchalance of a classic French starlet. Lucky for us, my hair-genius friend Caroline shares the steps below, and the fabulous Jamie Beck took photos... Steps and "after" photos below... "When I need a quick hairstyle, the messy top knot is my go-to. Carrie's Messy Beehive Tutorial « WishWishWish. [ylwm_vimeo height="346" width="615" portrait="false" byline="false"]19071764[/ylwm_vimeo] I've posted an updated version with clearer imagery right here – do take a look!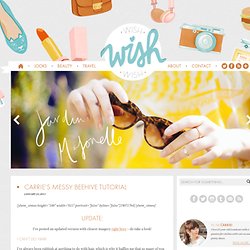 I Can't Do Hair! I've always been rubbish at anything to do with hair, which is why it baffles me that so many of you have asked for a tutorial! If you've already pressed play on the video above you'll see that I do it without any care or precision..those of you that are any good at styling your hair are probably gasping – no clean lines, just luck. On the plus side, it's a super quick up-do that rarely fails me, and I like that it's messy rather than perfect as I don't like to feel too put-together and 'done-up' 50 Fun Manicures. Pink Poodle Nails Give in to your desire to be a child of the 50's with these retro nails.Dima Nails Art enthusiasts will love these bold nails, inspired by the icon himself, Dima Drjuchin.Futuristic French Surprisingly, vibrant shades work well with a french style mani, and even better with an extra splash of shimmer.Mix it Up Let your creative side shine when polishing your nails in an endless variety of colors and patterns.Sparkly French Twist Change up your usual white-on-white french manicure, and opt for a glitter polish to line the tip of your nails.Diamonds and Ice Cream Mix and match your favorite designs on one hand, like pairing ice cream sundaes with diamonds, animal prints and skyscrapers.Neon Black-Out In order to create this look, first apply a colorful base and wait for it to dry.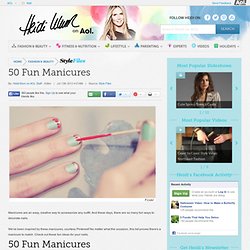 Next, tape off small portions of your nail and apply a black top-coat. Wait until it dries, remove the tape and voila! CWTS reveal - the book clutch + how-to. Did you see this week's Crafting with the Stars?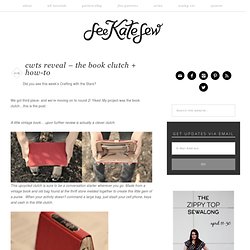 We got third place- and we're moving on to round 2! Yikes! My project was the book clutch…this is the post:A little vintage book… upon further review is actually a clever clutch. This upcycled clutch is sure to be a conversation starter wherever you go. Dye - Dyes From Plants - Pioneer Thinking. Did you know that a great source for natural dyes can be found right in your own back yard!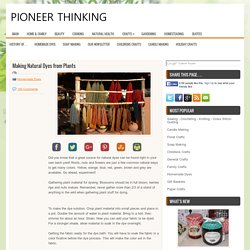 Roots, nuts and flowers are just a few common natural ways to get many colors. Yellow, orange, blue, red, green, brown and grey are available. Solid perfume pocket watch locket. Try as I might, I cannot seem to grasp even the most basic of feminine beauty rituals.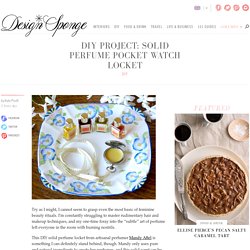 I'm constantly struggling to master rudimentary hair and makeup techniques, and my one-time foray into the "subtle" art of perfume left everyone in the room with burning nostrils. This DIY solid perfume locket from artisanal perfumer Mandy Aftel is something I can definitely stand behind, though. Home Organization Ideas: Up and Away. Bimbo1. Skin Condition as Art. Beauty is especially skin deep if you're artist Ariana Page Russell. She has dermatographia, a condition in which lightly scratching your skin causes raised, red lines where you've scratched. It affects roughly 5 percent of the population, but Ms. Russell is the only one who has turned her puffy, ruddy, sensitive skin into elaborately patterned high art.
Read More In her latest show, "Blouse," which is currently hanging at the Magnan Metz Gallery in New York City, she created photographs, video art, and temporary tattoos using images of her rosy body designs to make a powerful and prideful statement about being comfortable within one's own skin. Photo 46- 8 Gorgeous, New Summer 'Do How-Tos. Strapless Apparently there aren't a lot of styles that don't work with this type of dress — as long as they aren't too over-the-top and don't interfere with the simple neckline of the dress — but Cole loves the look of classic, undulating waves.
"A strapless dress showcases beautiful, sexy shoulders and the collarbone; waxy waves cascading over the shoulders are the ultimate accessory," he says. Just as you can't really go wrong with a hairstyle for a strapless dress, there aren't many accessories you can't wear, either. "Strapless dresses are suggestive without being trashy," says Rose.
Anthro-Inspired Mirror. You all know we love a good Anthropologie knockoff around here – so a couple of days ago when I was browsing online I came across this mirror. Oh I definitely need that. Hold the presses – did that say $498??? Huh. THE MODERN BRIDE. Photo: angela+ithyle/thebeautydepartment.com post designed by kristin ess I've been getting tons of emails about hair for the do-it-yourself bride. We'll start off with this super simple chignon and work toward more intricate looks down the line. No Heat Curls - Moms Who Wear High Heels and Swear. Fun Summer Hair in Minutes. Happy Friday ladies! I just love this time of year- summer is just around the corner! Naturally, as weather changes so does my hairstyle. However, I am feeling like I need something new. Use an Aluminum Can as a Wi-Fi Extender. Hang a Picture with an Old Soda Can Tab. Uni-ball Jetstream Ballpoint Pen - 0.7 mm - Rubber Body Series - Metallic Orange Body.
Increasing Your Thrifting Luck www. Printable Paper. T-Shirt Underwear. The Convertible "Infinity" Dress: How it almost defeated me, and what you need to make one. Jumper. Make a Dress from a Button-Down Shirt. Tie-a-Tie.net | Learn How to Tie a Tie. How to Exercise While Watching TV. How to Make Book Earrings (with pictures) How To Style Maiden Braids. 30Day.jpg (JPEG Image, 600x776 pixels) - Scaled (68%) Easy Origami Envelope |
---