life
Get flash to fully experience Pearltrees
1. The only person that can ever truly make you happy is yourself. Stop depending on everyone else .
Contrary to popular belief, you don't have to make drastic changes in order to notice an improvement in the quality of your life. At the same time, you don't need to wait a long time in order to see the measurable results that come from taking positive action. All you have to do is take small steps, and take them consistently, for a period of 100 days.
By Sarah Stebbins Clothing and Outerwear Button-Down Shirts.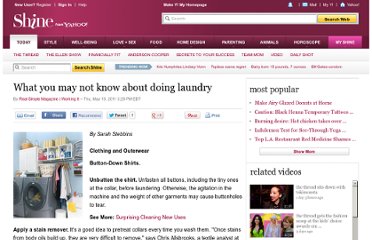 By Melissa Breyer More from Care2 Green Living blog For many of us, a morning without coffee or tea is a like the proverbial day without sunshine. For me, much of it is about the ritual. OK, who am I kidding? It's about the caffeine. Mmm, I love caffeine -- that naturally occurring alkaloid found in the leaves, seeds, and fruits of more than 63 plant species worldwide.
Wedding-rings One of the main themes of my happiness project is marriage . For me, as with many people, my marriage is one of the most central elements in my life, my home, and my happiness. When I started my happiness project, and I reflected about the changes I wanted to make, I realized I had five particular problem areas in my marriage. Here they are, along with the strategies I try to use to address them, though they remain challenging: 1.
Prefab is often synonymous with cheap and shoddy when it comes to homebuilding. Houses partly built in a factory are known for their low costs and fast construction. You just need some land to build on.
By Amanda Greene The basics of staying healthy seem pretty easy to follow: Eat well, exercise, get enough sleep and you should be on the right track, right? Surprisingly, it can be more complicated than that. Oftentimes the very choices we make to benefit our health can be the same ones that hurt us in the long run. Read on to learn which unexpected habits-like brushing your teeth after every meal or slipping into a pair of comfortable sandals-might be causing you harm. 1.
Why is that lovely model wearing sweatpants? Because for the first time ever, REDBOOK consulted a 50-man focus group before we dressed her. First, guys told us what peeves them most about the outfits we wear (wow, do they ever hate boyfriend jeans), then we tweaked the looks so you'll both love them. (You'll note that our model is comfy and sexy.) This way, you get to dress for yourself and your guy. Everyone's happy!
It seems like teens these days have more pressures than ever: Studying harder to get into the school of their dreams, sweating more to make it on the high school team, texting incessantly to keep up with the lives of their friends. Some of these kids do a marvelous job handling it all, some of them hit some roadblocks, and still others aren't quite sure how to best cope with everything going on in their lives. According to Drs. Mehmet Oz , Michael F. Roizen, and Ellen Rome, authors of YOU: The Owner's Manual for Teens: A Guide to a Healthy Body and Happy Life , one of the ways that some teens try to cope with not only these pressures but also the pressures they may feel to have the perfect body is through how they treat their bodies-namely in the form of eating disorders, the point when a major part of their lives is being controlled by thoughts and actions involving food, weight, and/or body.