Society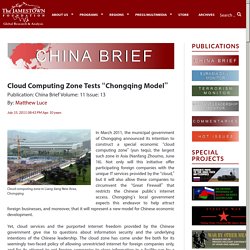 Cloud Computing Zone Tests "Chongqing Model"
Publication: China Brief Volume: 11 Issue: 13 July 15, 2011 04:43 PM Age: 2 yrs Category: China Brief, Home Page, Economics, Military/Security, China and the Asia-Pacific Cloud computing zone in Liang Jiang New Area, Chongqing In March 2011, the municipal government of Chongqing announced its intention to construct a special economic "cloud computing zone" (yun tequ), the largest such zone in Asia (Nanfang Zhoumo, June 16). Not only will this initiative offer participating foreign companies with the unique IT services provided by the "cloud," but it will also allow these companies to circumvent the "Great Firewall" that restricts the Chinese public's internet access.
The Chongqing Model | China Conversation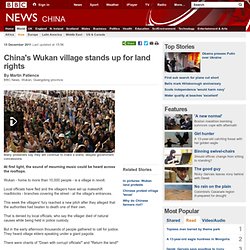 China's Wukan village stands up for land rights
15 December 2011 Last updated at 10:56 ET By Martin Patience BBC News, Wukan, Guangdong province Many protesters say they will continue to make a stand, despite government concessions At first light, the sound of mourning music could be heard across the rooftops. Wukan - home to more than 10,000 people - is a village in revolt. Local officials have fled and the villagers have set up makeshift roadblocks - branches covering the street - at the village's entrances.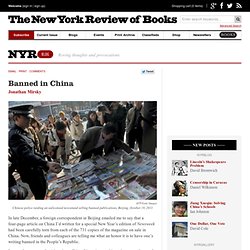 Banned in China by Jonathan Mirsky
Jonathan Mirsky AFP/Getty Images Chinese police raiding an unlicensed newsstand selling banned publications, Beijing, October 18, 2011
Countering the Contagious West - Mohamed A. El-Erian - Project Syndicate
Exit from comment view mode. Click to hide this space Comments View/Create comment on this paragraph NEWPORT BEACH – Imagine for a moment that you are the chief policymaker in a successful emerging-market country. You are watching with legitimate concern (and a mixture of astonishment and anger) as Europe's crippling debt crisis spreads and America's dysfunctional politics leave it unable to revive its moribund economy. Would you draw comfort from your country's impressive internal resilience and offset the deflationary winds blowing from the West; or would you play it safe and increase your country's precautionary reserves? Comments View/Create comment on this paragraph That is the question facing several emerging-market economies, and its impact extends well beyond their borders.
Is Meritocracy Good?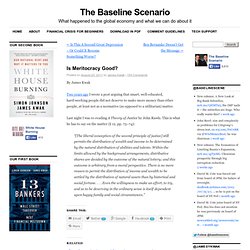 By James Kwak Two years ago I wrote a post arguing that smart, well-educated, hard-working people did not deserve to make more money than other people, at least not as a normative (as opposed to a utilitarian) matter. Last night I was re-reading A Theory of Justice by John Rawls. This is what he has to say on the matter (§ 12, pp. 73–74): "[The liberal conception of the second principle of justice] still permits the distribution of wealth and income to be determined by the natural distribution of abilities and talents. Within the limits allowed by the background arrangements, distributive shares are decided by the outcome of the natural lottery; and this outcome is arbitrary from a moral perspective.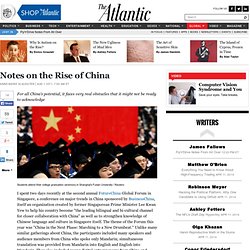 For all China's potential, it faces very real obstacles that it might not be ready to acknowledge Students attend their college graduation ceremony in Shanghai's Fudan University / Reuters I spent two days recently at the second annual FutureChina Global Forum in Singapore, a conference on major trends in China sponsored by BusinessChina , itself an organization created by former Singaporean Prime Minister Lee Kwan Yew to help his country become "the leading bilingual and bi-cultural channel for closer collaboration with China" as well as to strengthen knowledge of Chinese language and culture in Singapore itself.
Notes on the Rise of China - Anne-Marie Slaughter - International
Patrick Chovanec
Three Videos About China - James Fallows - International
Or, two videos and an interesting photo. 1) This is why I love China: a video of a young woman who finds an innovative answer to the parking problems engendered by the nonstop increase in the number of cars. She just creates, out of nothing, a "legal" parking space for herself on a main road, complete with instant striping for the pavement and a fake big 'P' sign by the space she wants to use. The video is not embeddable, but if you start maybe 40 seconds in you'll get the idea, and probably want to watch for another minute or two. This is so much the spirit of China as I've experienced it -- for better and worse, a billion people figuring out their own little angles to get by. Yes, I do realize the drawbacks for rule-of-law, climate-of-trust, etc when people feel they have to make their own rules to survive.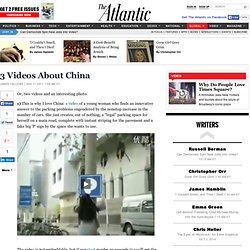 Since the inception of this blog, one of our recurring themes has been the need for foreign companies to follow China's laws. We are always writing of how China does have laws, those laws apply more strictly to foreign companies than to domestic companies, and those laws apply whether or not some local governmental official assures you that they will not be enforced. We have also consistently extolled the virtues of setting up your business in a second tier city. Phil Taylor , writing for the International Bar Association Journal, has just come out with an excellent article combining these two themes. Mr. Taylor is a law student at the University of London who freelance reports on the side.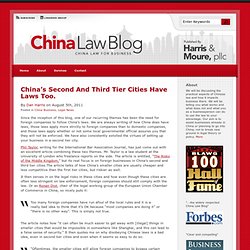 China's Second And Third Tier Cities Have Laws Too. : China Law Blog : China Law for Business
What's So Great About China?
Observations based on my Trip to China
i 10 Votes Sorry I was away so long. I was in Spain, and then China. Let me tell you about the China trip.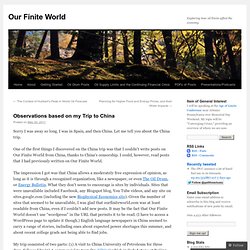 BEIJING -- Some China-watchers have argued recently that the rule of law is weakening in the People's Republic. However, a less-commented-on countertrend is the re-emergence of legal processes inspired by indigenous conventions and traditions such as trial by public opinion. The trend seems to be deepening, reflecting a profound ideological shift in China's legal approach. Moreover, this shift may help explain China's more assertive foreign policy over the past 18 months and also has significant implications for the country's leadership aspirations in Asia and its continued integration in international institutions.
China's Legal Exceptionalism Threatens International Integration
China's housing bubble: New evidence
For a while now, analysts have been arguing there is a bubble in China's property market. Using records from 35 major cities this column finds evidence of a housing bubble. It compares house prices to cointegrated fundamentals and finds that property in China is in general overvalued by around 20% – and even more so in the boom towns. For many observers, the Chinese economy has been spurred by a bubble in the real-estate market, probably driven by the fiscal stimulus package and massive credit expansion (Nicolas 2009). For example, the stock of loans increased by more than 50% since the end of 2008.
World energy policy is gripped by a fallacy — the idea that coal is destined to stay cheap for decades to come. This assumption supports investment in 'clean-coal' technology and trumps serious efforts to increase energy conservation and develop alternative energy sources. It is an important enough assumption about our energy future that it demands closer examination. There are two reasons to believe that coal prices are likely to soar in the years ahead.
The end of cheap coal
China's Bumpy Road Ahead
By IAN BREMMER When exactly will China take over the world? The moment of truth seems to be coming closer by the minute.
Economic Daily News -- No quick solution to China's power shortage
Cross posted from MacroBusiness
Guest Post: China is Different
Beyond Debt Woes, a Wider Crisis of Globalization?
Latest Census in China Triggers Fears of Demographic Decline Census details rapid aging of population and dramatic reduction of labor pipeline. Female fertility sits well below 2.0, triggering fears of Japan-like decline. One-child policy under attack, but government holds firm out of fear of resource requirements and social burden.
Latest Census in China Triggers Fears of Demographic Decline - Wikistrat
How China Could Yet Fail Like Japan
China's Economy Faces Three Contradictions
Can China's style of rule continue in an age of citizen uprisings and social networking? - Asia, World
Beware China's Political Bubble: Business Class
Cisco Poised to Help China Build Surveillance Project