Ethnography
Ethnography in industry: Methods overview (part one) Editor's note: PARC contributed a version of this post to UX Magazine.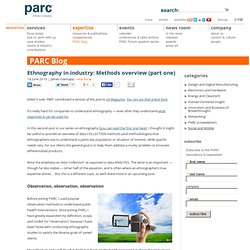 You can see that article here. It's really hard for companies to understand ethnography — even after they understand what objectives it can be used for. In this second post in our series on ethnography [you can read the first one here], I thought it might be useful to provide an overview of data COLLECTION methods (and methodologies) that ethnographers use to understand a particular population or situation of interest; while specific needs vary, for our clients the general goal is to help them address a murky problem or innovate differentiated products.
PARC
Designresearch. A Miscellany for Anthro/Design Research Geeks: Ethnographic Segmentation in Design Research (I of III) Sampling in Design Research: Toward Ethnographic Segments What people say and what they end up doing is different.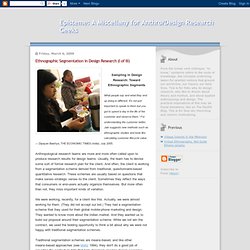 It's not just important to speak to them but you got to spend a day in the life of the customer and observe them." A Miscellany for Anthro/Design Research Geeks: Ethnographic Segmentation in Market Research (II of III) Theoretical SamplingTheoretical sampling often seeks maximum variation rather than a "representative" slice of reality (Miles and Huberman 1994).In other words, anthropologists (or any ethnographers, really) are interested in the systematic study of the contexts surrounding a particular consumer product or business practice.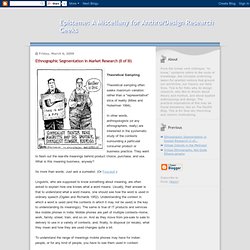 They want to flesh out the real-life meanings behind product choice, purchase, and use. What is this meaning business, anyway? Its more than words. Just ask a surrealist. (Or Foucault.) A Miscellany for Anthro/Design Research Geeks: Ethnographic Segmentation in Market Research (III of III) Toward Ethnographic (Contextual) Segments Too often, the client's segmentation scheme reflect normalized abstractions rather than the evolving needs, tastes, and practices of real people.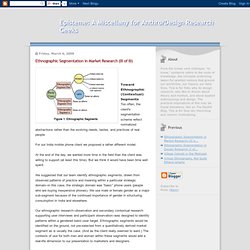 For our India mobile phone client we proposed a rather different model. At the end of the day, we wanted more time in the field than the client was willing to support (at least this time). But we think it would have been time well spent. We suggested that our team identify ethnographic segments, drawn from observed patterns of practice and meaning within a particular strategic domain--in this case, the strategic domain was "basic" phone users (people who are buying inexpensive phones). Business Segmentation by Michael Richarme. Business Segmentation: Emerging Approaches to More Meaningful Clustersby Michael Richarme Consumer opinion research has a well-established track record, stretching over the past five or six decades.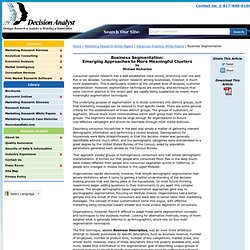 Conducting opinion research among businesses, however, is much more problematic. This is particularly evident at the simplest level of analysis, customer segmentation. UnderstandingSociety.
---