Photography
20 Incredible Snapshots of Water Splashes That Look Like Hats | Environmental Graffiti. Photo Manipulation At Its Finest (13 pics) - My Modern Metropoli. Photography. Artist. Photography. Photography.
Forums. Software. Equipment. Books. Start Up Home Business. Art Inspiration. The Infinity Room - My Modern Metropolis - StumbleUpon. With this immersive installation, French artist Serge Salat invites visitors to take a journey through endless layers of space, decked out with cubic shapes, panels of mirrors, shifting lights and music.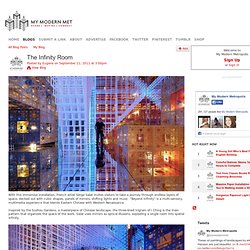 "Beyond Infinity" is a multi-sensory, multimedia experience that blends Eastern Chinese with Western Renaissance. Inspired by the Suzhou Gardens, a masterpiece of Chinese landscape, the three-lined trigram of I Ching is the main pattern that organizes the space of the work. Salat uses mirrors as optical illusions, exploding a single room into spatial infinity. via [Architizer] Views: 422998. House art. New York Institute of Photography. Photographers Gallery. 55 incredible examples of photo manipulation. Amazing Places To Experience Around The Globe (Part 1) - StumbleUpon. Preachers Rock, Preikestolen, Norway Blue Caves - Zakynthos Island, Greece Skaftafeli - Iceland Plitvice Lakes – Croatia Crystalline Turquoise Lake, Jiuzhaigou National Park, China.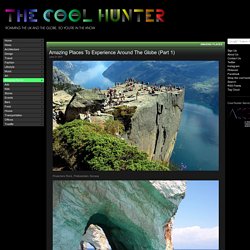 Lehigh Valley photography: Masters of the Platinum Print on display as part of Lehigh Valley Photography Month. November 19, 2011|By Tim Higgins, Special to The Morning Call Platinum prints are to photographers what the finest linens and hand-ground paints are to painters, or the finest marble to sculptors — they are the crème de la crème of the photographic medium.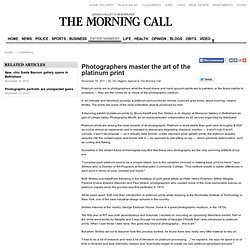 In an intricate and laborious process, a platinum print produces velvety, nuanced gray tones, sepia coloring, creamy whites. The prints are some of the most collectible objects produced by man. A stunning exhibit of platinum prints by Bruce Kastiff and Tom Shillea is on display at Monsoon Gallery in Bethlehem as part of Lehigh Valley Photography Month, an an unprecedented collaboration by 40 venues organized by ArtsQuest. Photo tutorials.
---