China
Waiting for WikiLeaks: Beijing's Seven Secrets. While people in the US and elsewhere have been reacting to the release by WikiLeaks of classified US documents on the Afghan War, Chinese bloggers have been discussing the event in parallel with another in their own country.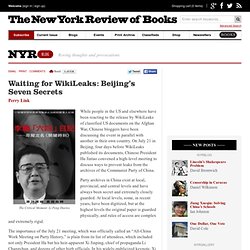 On July 21 in Beijing, four days before WikiLeaks published its documents, Chinese President Hu Jintao convened a high-level meeting to discuss ways to prevent leaks from the archives of the Communist Party of China. Party archives in China exist at local, provincial, and central levels and have always been secret and extremely closely guarded. Pinyin. Chicago on the Yangtze - By Christina Larson. View a photo essay about Chongqing Yan Qi spent most of her childhood living with her grandparents in a mountain village on the outskirts of what is now the world's fastest-growing city. It was always raining, she remembers, and nothing much seemed to happen. With no bridges to cross the fast-flowing Yangtze River, the nearby town center -- today a 40-minute drive away -- took several hours to reach by long-distance bus. Today, Yan Qi works not far from where she grew up, at her company headquarters on a vast estate north of Chongqing. Shanghai prepares for Expo 2010. Construction workers and organizers in Shanghai, China are busily completing tasks ahead of the planned opening of the 2010 World Expo on May 1st - planned to be the largest World Expo in history.
The theme of the Expo is "Better City, Better Life", and is scheduled to run until October 31, 2010. In recent months, large construction and renovation projects have dominated much of Shanghai, in preparation for becoming the World's stage on May 1st. China traffic jam stretches 'nine days, 100km' 24 August 2010Last updated at 00:47 A woman caught up in the jam describes her ordeal A massive traffic jam in China has slowed vehicles to a crawl for nine days near Beijing, local media say.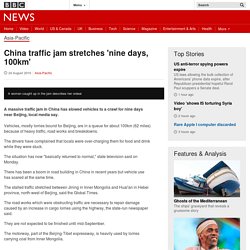 Vehicles, mostly lorries bound for Beijing, are in a queue for about 100km (62 miles) because of heavy traffic, road works and breakdowns. The drivers have complained that locals were over-charging them for food and drink while they were stuck. The situation has now "basically returned to normal," state television said on Monday.
---