Ref housing
IRREGULAR FORMS: A Documentary. Ecofans, specialty fans and heaters, overhead stirrers. The future needs fixing - the future needs fixing - sugru. Zangra.com entreprise franco-belge, fabricant et distributeur d'objets authentiques, simples, fonctionnels. Fils tressés, lampes industrielles, ampoules à incandescence, lampe porcelaine, douille porcelaine, poignées de portes en porcelaine, Ruitertassen, Caravane. Contemporary Furniture, Modern Furniture and Designer Furniture at Bonluxat.com.
Atelier 159 - mobilier industriel, vintage, loft, design industriel, tendance, accessoires déco. The Story of Eames Furniture: Marilyn Neuhart with John Neuhart - Interview. Poêle à bois, poêle-cheminée | Hase. Expertise gratuite, achat, vente objets d'art et antiquités. Tolix — Accueil. Déco/Design. Industrie - Accessoires. Bac. Douches. Lavabos. Miroir. Mobilier. Agape - prodotti.
In osservanza di quanto previsto dal D.Lgs 30.06.2003 n.196, AGAPE SRL (di seguito "AGAPE") in qualità di titolare del trattamento, viene a fornirLe le dovute informazione in ordine alle finalità e modalità del trattamento dei Suoi dati personali, nonché l'ambito di comunicazione e diffusione degli stessi, alla natura dei dati in nostro possesso e del loro conferimento.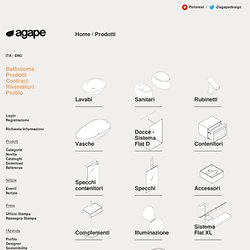 AGAPE effettua operazioni di trattamento dei dati che Lei fornisce al momento della iscrizione al servizio Newsletter in seguito alla instaurazione di un rapporto commerciale anche solo potenziale (offerte, preventivi ecc). I Suoi dati, oggetto del trattamento, potranno saranno in seguito comunicati a consulenti fiscali e tributari o legali per i soli adempimenti fiscali e contabili o di legge – o ad fornitori di software/hardware limitatamente agli interventi tecnici funzionali alle finalità del trattamento esposte. Ogni ulteriore comunicazione o diffusione avverrà solo previo Suo esplicito consenso.
Vieques VAS911 « La Revue du Design. Ovale, évoquant un bidon que l'on aurait déformé et étiré, la nouvelle baignoire Vieques VAS911 que la prolixe Patricia Urquiola vient de dessiner pour l'éditeur italien Agape renouvelle assurément le genre.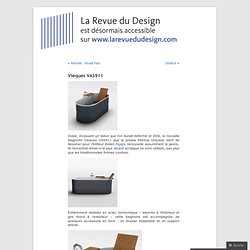 Ni l'ancestral émail ni le plus récent acrylique ne sont utilisés, pas plus que les traditionnelles formes courbes. Entièrement réalisée en acier, bichromique – blanche à l'intérieur et gris foncé à l'extérieur – cette baignoire est accompagnée de quelques accessoire en teck : un dossier adaptable et un support latéral. Inhabituel, l'objet surprend mais pourtant ne dérange pas. Il témoigne, tout simplement, de la grande aisance avec laquelle Patricia Urquiola réussit à s'inspirer de formes populaires et à les détourner avec finesse et pertinence. Sources : Trendir, Kbtrends.
Parquet - Acheter du parquet - Devis Parquet - Pose de parquet - Stûv Stûv 30 · Foyers 3 fonctions. FABRIQUE MOI - Acheter et fabriquer vos objets sur mesure. The Peak Series. This is a series of pre-fabricated summer houses that allows a great portion of social life on a relatively small space.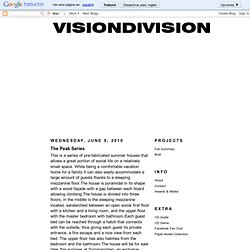 While being a comfortable vacation home for a family it can also easily accommodate a large amount of guests thanks to a sleeping mezzanine floor.The house is pyramidal in its shape with a wood façade with a gap between each board allowing climbing.The house is divided into three floors; in the middle is the sleeping mezzanine located, sandwiched between an open social first floor with a kitchen and a living room, and the upper floor with the master bedroom with bathroom.Each guest bed can be reached through a hatch that connects with the outside, thus giving each guest its private entrance, a fire escape and a nice view from each bed.
Dallmer at Stylepark. Dallmer CeraWall P Johannes Dallmer Dallmer CeraWall S Johannes Dallmer Dallmer CeraLine Nano Johannes Dallmer Dallmer Floor drain CeraNiveau with Zentrix Johannes Dallmer Dallmer Linear floor drain CeraNiveau Johannes Dallmer Dallmer Shower drain CeraDrain Plan Johannes Dallmer.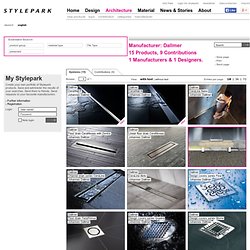 Utliles pour mes travaux. Trunk.
---