Build-A-Venture
The Payment Engineers. Upstart. I left Google in early 2012 with a few colleagues to found Upstart based on a simple idea: how can we help more people do what they were meant to do?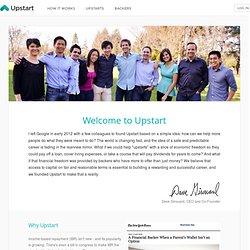 The world is changing fast, and the idea of a safe and predictable career is fading in the rearview mirror. What if we could help "upstarts" with a slice of economic freedom so they could pay off a loan, cover living expenses, or take a course that will pay dividends for years to come? And what if that financial freedom was provided by backers who have more to offer than just money? We believe that access to capital on fair and reasonable terms is essential to building a rewarding and successful career, and we founded Upstart to make that a reality.
Dave Girouard, CEO and Co-Founder. Upload and Sell your eBooks with Paypal - Payhip. Termsfeed: Terms of Service Generator & Privacy Policy Generator. AmazonSupply.com: The Hardware Store for Researchers and Developers. Kern And Burn | A Publication About Design Entrepreneurship. Hoody! | Find trusted services near you.
Google Spreadsheet Marketing Budget Template for Startups. As a startup grows and matures so too should the tools and processes used.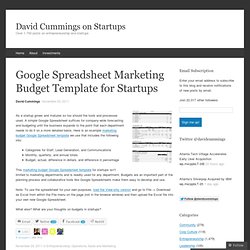 A simple Google Spreadsheet suffices for company-wide forecasting and budgeting until the business expands to the point that each department needs to do it on a more detailed basis. Here is an example marketing budget Google Spreadsheet template we use that includes the following info: Categories for Staff, Lead Generation, and CommunicationsMonthly, quarterly, and annual totalsBudget, actual, difference in dollars, and difference in percentage This marketing budget Google Spreadsheet template for startups isn't limited to marketing departments and is readily used for any department. Budgets are an important part of the planning process and collaborative tools like Google Spreadsheets make them easy to develop and use. Twitter commerce, where Tweets become transactions. Optimizely: A/B testing software you'll actually use. Userfly — Web usability testing made easy.
A/B Testing Tool | Split Testing and Multivariate Testing Software - Visual Website Optimizer. Landing Pages: Create, Publish & A/B Test Without I.T. Poll: Where did you get your site/app's Terms of Service & Privacy Policy. Wordpress.com's TOS is .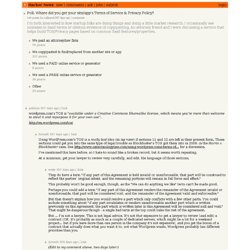 Using WordPress.com's TOS is a (in my view) if sections 11 and 12 are left in their present form. Those sections could get you into the same type of legal trouble as Blockbuster's TOS got them into in 2009, in the case. Free Systems Management and IT Management Software. Online Registration - for Events, Workshops, Classes, and Courses. Tools to Boost Your Social Media Productivity » SocialOomph.com. Launch Effect - A WordPress Theme for Viral Launches.
Shopify — Ecommerce Software Solutions and Shopping Cart Software. How Moderator Works - Google Moderator Help Center. Google Moderator allows you to create a series about anything that you are interested in discussing and open it up for people to submit questions, ideas, or suggestions.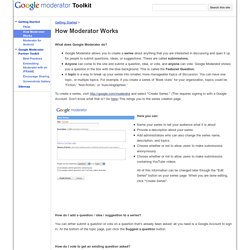 These are called submissions. Anyone can come to the site and submit a question, idea, or vote, and anyone can vote. Google Moderator shows you a question in the box with the blue background. This is called the Featured Question.A topic is a way to break up your series into smaller, more manageable topics of discussion. A WordPress eCommerce Plugin that Works. Logo Design, Web Design and More. Design Done Differently | 99designs.com. PickyDomains | Risk-Free Naming Service – Naming, Domain Names, Slogans. Fiverr – The place for people to share things they're willing to do for $5. Virtual Phone System: Grasshopper | Manage Your Calls Online.
VoIP Business Phone Service | 8x8, Inc.
---