Flickr
Looking for Flickr Tools, hacks and services for a powerful photo sharing experience? Flickr is a revolution in photo storage, sharing and organization , making image management an easy, natural and collaborative process. Get comments, notes, and tags on your photos, post to any blog, share and chat live and more! Flickr claims to be the best online image management and photo sharing application. You can start uploading your photos (like jpeg, jpg, gif, png etc.) on Flickr easily via the web or use uploading tools for Mac and Windows to make it easy to upload a batch of hi res photos all at once.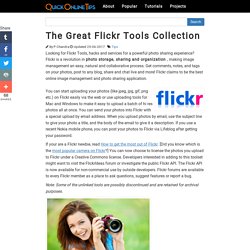 - statsr.net
Some news about us New Flickr Login using oAuth Api on Statsr.net Statsr.net has been updated today to use the new Flickr oAuth API, you will now have to authorize the app before using Statsr.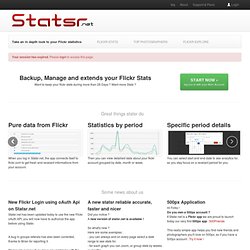 Scout: Find your photos in Flickr's Explore pages.