Projects
Uiproductions. DhtmlxGantt Allows You To Create Dynamic Gantt Chart. DhtmlxGantt is a JavaScript component that allows you to create dynamic Gantt chart and visualize a project schedule in a convenient graphical way.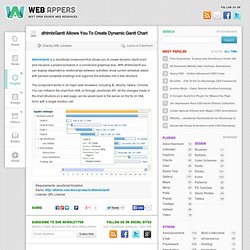 With dhtmlxGantt you can display dependency relationships between activities, show current schedule status with percent-complete shadings and organize the activities into a tree structure. The component works in all major web-browsers, including IE, Mozilla, Opera, Chrome. You can initialize the chart from XML or through JavaScript API. Collaborative Project Management Software | Planzone.
Products Overview | Serena Open Source and Hosted Project Management Software. Collabtive – A Free Open Source Project Management Software. Managing projects can be tricky, time-consuming and confusing.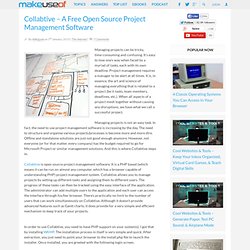 It's easy to lose one's way when faced by a myriad of tasks, each with its own deadline. Project management requires a manager to be alert at all times. It is, in essence, the art and science of managing everything that is related to a project (be it tasks, team members, deadlines, etc.). The Big Picture Provides Intuitive Project Management - Project Management - Lifehacker. Interesting.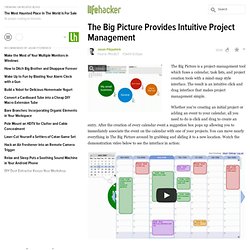 I would like to find out more, unfortunately there are no FAQs etc on their main page. What is with the trend to over-simplify? Its like they are telling me to sign up and check it out or get the hell out of here. As if a single video is enough to entice me to check out the service? Gantter Does Project Management in Your Browser - Project. Use Taskbarn to Track and Manage Projects Online - Collaboration Tools.
---