Projects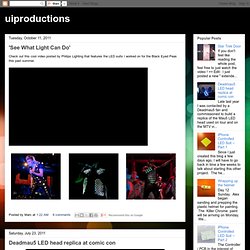 If you don't feel like reading the whole post, feel free to just watch the video! >> Edit: I just posted a new "extended version" of the video. >> Edit: Be sure to check out and vote for my Instructable in both the Humana and Craftsman Tools Contests starting next week!http://www.instructables.com/id/Air-Powered-Star-Trek-Style-Door/
uiproductions
dhtmlxGantt Allows You To Create Dynamic Gantt Chart
dhtmlxGantt is a JavaScript component that allows you to create dynamic Gantt chart and visualize a project schedule in a convenient graphical way. With dhtmlxGantt you can display dependency relationships between activities, show current schedule status with percent-complete shadings and organize the activities into a tree structure. The component works in all major web-browsers, including IE, Mozilla, Opera, Chrome. You can initialize the chart from XML or through JavaScript API.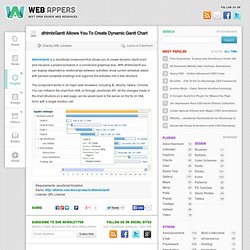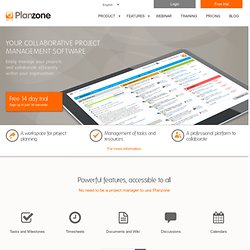 Collaborative Project Management Software | Planzone
Manage todo's and activities Assign and remember tasks. Manage priorities. Delegate work. See who's assigned to what.
Products Overview | Serena Open Source and Hosted Project Management Software
Collabtive – A Free Open Source Project Management Software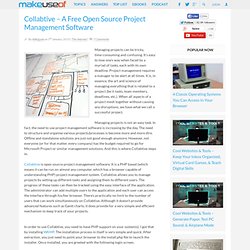 Managing projects can be tricky, time-consuming and confusing. It's easy to lose one's way when faced by a myriad of tasks, each with its own deadline. Project management requires a manager to be alert at all times. It is, in essence, the art and science of managing everything that is related to a project (be it tasks, team members, deadlines, etc.).
SExpand The Big Picture is a project-management tool which fuses a calendar, task lists, and project creation tools with a mind-map style interface. The result is an intuitive click and drag interface that makes project management simple. Whether you're creating an initial project or adding an event to your calendar, all you need to do is click and drag to create an entry. After the creation of every calendar event a suggestion box pops up allowing you to immediately associate the event on the calendar with one of your projects.
The Big Picture Provides Intuitive Project Management - Project Management - Lifehacker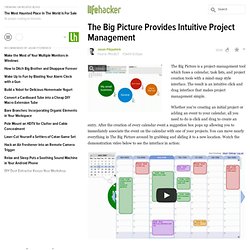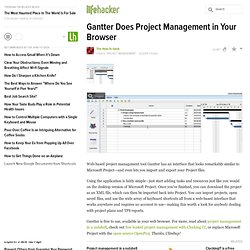 Nice. I use MS Project a *lot* and this seems to have a lot of the basics. Definitely would be good in a pinch. Two requests for future development: a) I wish there was a way to resize the width of the task Name column as I'd like be able to see the other columns (duration, start, finish, % complete, , etc.) as well as the actual Gantt chart. Currently the Name column is huge - so wide that I can either choose to see the other columns or the Gantt, but not both (I'm viewing it in Firefox on a 19" monitor at 1600x1200).
Gantter Does Project Management in Your Browser - Project
Use Taskbarn to Track and Manage Projects Online - Collaboration Tools
SExpand Taskbarn is a web-based project collaboration tool with a focus on ease of use, transparency, and feed-friendly updates. Taskbarn covers the basics of project management, including assigning due dates to tasks and marking parties responsible for completing them. In addition to the standard tools, each project is set up with a unique feed. Updates to the project can be published both within the Taskbarn feed and to an external Twitter account. Each feed update can be given a file attachment of up to 10MB—handy for tossing in pictures and voice messages to keep a group posted on progress.