Freeware
Webサイトを作成するときにWebデザイナーが参考とするのは、他のWebサイトのデザインであり、刺激を受けたデザイナーがいいデザインを生み出すことが出来るが、何を持っていいものとするかは別の話になってきます。よくネット中でサイトデザインについて「これはひどい」といわれるサイトがあるが、あれは何を基準として判断をしているのか?ある人の答えでは配色がめちゃくちゃで原色を使いすぎているので目が疲れるといった利便性について酷いといった答えが返ってくる一方で。サイトデザインが古すぎる、コンテンツとサイトのデザインがマッチしていないなど、Webサイトの中身を見て酷いと評価をする人もいます。
http://www.worldwidekarts.com/
Game for the Weekeend Rumble Box » gHacks tech news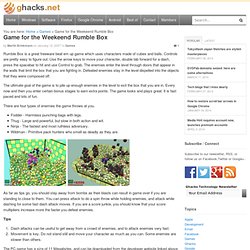 Rumble Box is a great freeware beat em up game which uses characters made of cubes and balls. Controls are pretty easy to figure out. Use the arrow keys to move your character, double tab forward for a dash, press the spacebar to hit and use Control to grab. The enemies enter the level through doors that appear in the walls that limit the box that you are fighting in. Defeated enemies stay in the level dispelled into the objects that they were composed off. The ultimate goal of the game is to pile up enough enemies in the level to exit the box that you are in.
Slunečnice.cz - programy ke stažení zdarma
Windows software downloads and reviews
EMDB Version 1.77Updated May 19, 2013 Added Mar. 20, 2010Homepage/developer Compatibility : Windows XP/Vista/7/8 File size : 1.8 MbDownload (via MajorGeeks)Download From the developer's site, "EMDB is a small utility to keep track of your DVD collection. With an automatic import from the database of IMDB, export to csv, text or complete website, thumbnail cover preview, a loan tracker, search function and multi-language user interface. EMDB is written in C++ using Microsoft Visual Studio 2008 and doesn't need a .NET framework or any other external libraries. EMDB is available in several languages: English, Dutch, Danish, German, Italian, Portuguese, Slovak, Spanish, Hungarian Croatian, Swedish, Greek, Catalan, Czech, Norwegian, Japanese, included in the setup."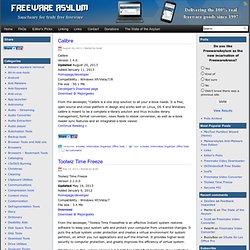 Freeware Asylum - Sanctuary for truly freeware
6 Music festival review – Damon Albarn's Everyday Robots is up there with his … – The Guardian Only four years ago, the BBC's alternative radio station 6 Music was threatened with closure and a petition was launched to save it. Today, audiences have doubled and if it's not quite "the nation's favourite", it's certainly one of it's best-loved. Taking itself into the live arena – with a two-day, live-broadcast, mud-free indoor festival [...] March 3rd, 2014 by Google News 'Without music, would we even be Jewish?'
Mulve.com - Free Music Discovery | Mp3 Music Search and Music Downloads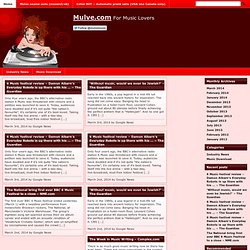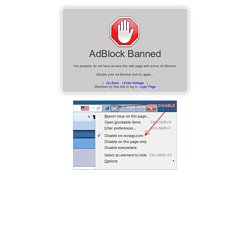 SuperSimple Video Converter 2014 Video Tools Rated: 5/6 SuperSimple Video Converter is a free transcoder for your movies, videos and music: Convert videos for iPhone, Android, BlackBerry, Windows Pho... More...
It seems like everyone these days wants to download videos to watch and share from sites like YouTube, Google Video, MetaCafe, DailyMotion, Veoh, Break, and a ton of other similar sites. Whether you want to download video on your iPod while working out, insert it into a PowerPoint presentation to add some spice, or simply download a video before it's removed, it's quite essential to know how to download, convert, and play these videos. There are basically two ways how to download videos off the Internet and that's how I'll split up this post: either via a web app or via a desktop application. Personally, I like the web applications better simply because you don't have to clutter up and slow down your computer with all kinds of software! Video downloaders for your desktop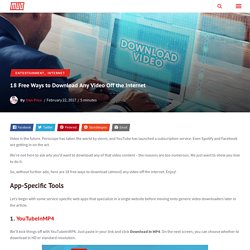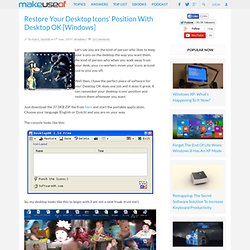 Restore Your Desktop Icons' Position With Desktop OK [Windows]
Let's say you are the kind of person who likes to keep your icons on the desktop the way you want them, the kind of person who when you walk away from your desk, your co-workers move your icons around just to piss you off. Well then, I have the perfect piece of software for you! Desktop OK does one job and it does it great.
Tiny, free Photoshop alternative Fotographix hits Beta 3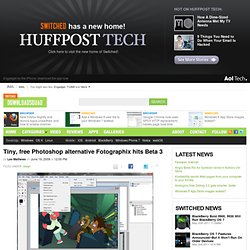 Fotografix is an amazing example of what creative developers can accomplish in less than one meg. The 680Kb portable application is a very capable image editor and provides nearly all the same functionality I utilize in Photoshop on a daily basis. It was a no-brainer to include in my list of 40 apps you can download in two seconds. Only a few changes have taken place, but they're important additions. First and foremost, documentation has been beefed up and now covers nearly every Fotografix feature.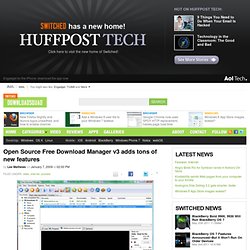 by Lee Mathews on January 7, 2009 at 02:00 PM Free Download Manager has released version 3 of their application, and the new version sports several new features that make it an excellent option handling all your download duties. The new release can now manage torrents as well as download and convert Flash video from sites like YouTube. A remote control feature has also been added, enabling web management of your downloads (like uTorrent's WebUI). FDM also allows you to preview certain files and can download partial contents of zip files. At about 18mb installed, it's not as lightweight as rolling uTorrent, DownThemAll, and any one of the YouTube downloaders out there, but it's an excellent all-in-one option for people that like to keep things simple.
Open Source Free Download Manager v3 adds tons of new features
Free utility for downloading videos from MegaVideo
In order to download videos from video sharing site Megavideo you normally need a premium account which costs $9.99 per month. But Megavideo Video Downloader will download and save any video on the site for free. All you need to do is enter the URL of the video you want to download, click the add button to put it in your list of movies to download, and click the start button.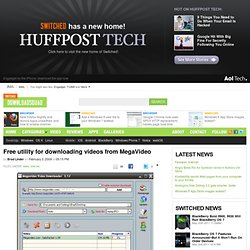 N.A.N.Y. Challenge 2009
The NANY Challenge 2009 :: Wrap Up 2009 has set a new standard for the DonationCoder NANY Challenge, both in quality and quantity of Released Applications. High quality applications from games to journals, clocks to media players, and everything in-between, have been released are now available for download and use. The Challenge is not an easy task to complete: 6 weeks to write, test and release a new application! All our entrants have other responsibilities apart from the annual NANY Challenge.
OpenSRS is the wholesale unit of Tucows, exclusively focused on the needs of resellers. Through a network of over 14,000 web hosts, Internet service providers and Web companies, OpenSRS manages domain names, email addresses, digital security products and web publishing tools for millions of end users worldwide. We offer white-label, brandable end-user interfaces, easy-to-use management tools, extensive technical documentation, scalable, reliable systems, competitive pricing and outstanding customer support.
Free Downloads at TopShareware.com. Software and Free Game Downloads Center
download freeware and shareware software programs, fully reviewed and rated.
ShareX Take a screenshot, have it uploaded and get the URL copied... Free TeamViewer Remote control any computer over the Internet within seconds... Free
Free Download of Computer Software, Games, Tools and Utilities - Freeware, Shareware, Demos and Trial Versions
Free software downloads and Reviews
Windows 8.1 business users get Update reprieve Microsoft has had a rather lax policy when it comes to providing Windows updates, allowing users to receive patches, for a long period of time, even without having the latest service pack applied. That changes with Windows 8.1, as the software giant has revealed installing Update becomes mandatory to apply future updates that will be rolled out starting this May's Patch Tuesday. This move gives Microsoft more leverage than ever before, as the software giant now has a real chance of convincing Windows 8.1 users to more quickly apply Update. But, businesses, which have had trouble getting Update through WSUS (Windows Server Update Services), are getting a reprieve. Continue reading