Nike
Nike Sportswear: Ondiep Born. Milan Made. Wesley Sneijder
For the launch of the Nike Free Run+ 2 City Pack series, YesYesNo was invited to develop software that would allow runners to create dynamic paintings with their feet using their Nike+ GPS run data. During the two day workshop at Nike headquarters, we invited the participants to record their runs and then using our custom software we imported the metrics from their run, to create visuals based on the speed, consistency and unique style of each person's run. Using the software the participants were able to play with the mapping and adjust the composition of their run which was then outputted as a high resolution print for them to take home. We also worked with the Innovation Lab at Nike to laser etch the runner's name, the distance they ran and their run path onto a custom fabricated shoe box, which contained a pair of the 'City Pack' shoes from their city of origin. Credits: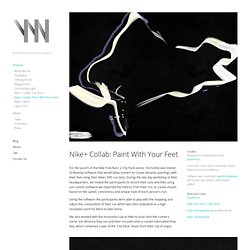 Nike + Paint With Your Feet
Footlocker - Stay Un-grounded feat. Mario Balotelli & Nike Air Max Lunar, Song: Lunar Riddim
Perhaps no other individual is synonymous with New York Knicks basketball and Jordan Brand as the now iconic Spike Lee . An avid Knick attendee and former Jordan Brand spokesman, the seminal filmmaker previews two exclusive colorways of the 2006-released Jordan Spizikes – the sneaker bearing his namesake. The bright orange and navy blue Knicks-colored sneakers are speculated to be "player exclusives" with further information to come.
Spike Lee "Player Exclusive" New York Knicks Jordan Spizikes
Video: Nike GYAKUSOU Spring 2011 Collection
Nike Gyakusou Launch at NSW Le Marais, Paris
The Cool Kids, Nike et Foot Locker se sont associés et viennent de sortir un pur clip vidéo. Celui-ci met à cette occasion en vedette Amar'e Stoudemire, DeSean Jackson et Chris Bosh; le tout bien sûr avec quelques modèles Nike Air. Frais !
Nike | Cool Kids Get Fresh Air | Obeca
Nike SB Zoom Stefan Janoski Mid Commercial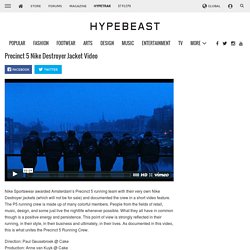 Precinct 5 Nike Destroyer Jacket Video
Nike Sportswear awarded Amsterdam's Precinct 5 running team with their very own Nike Destroyer jackets (which will not be for sale) and documented the crew in a short video feature. The P5 running crew is made up of many colorful members. People from the fields of retail, music, design, and some just live the nightlife whenever possible.
Nike Cricket "Yards" Commercial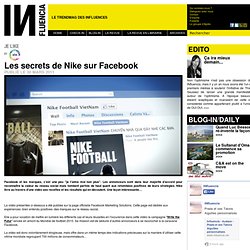 Je Like - Les secrets de Nike sur Facebook
Publié le 30 mars 2011 La vidéo présentée ci-dessous a été publiée sur la page officielle Facebook Marketing Solutions. Cette page est dédiée aux expériences -bien entendu positives- des marques sur le réseau social.
Nike x colette: The Away Project Retail Space
Nike Football: Who is Superfly?
Nike SB Stefan Janoski 'Blood Stains' Sneakers Halloween 2011
Nike Football French Away Kit Jersey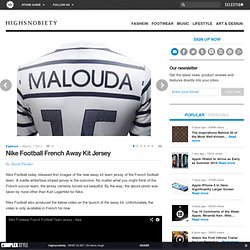 Nike Football today released first images of the new away kit team jersey of the French football team. A subtle white/blue striped jersey is the outcome. No matter what you might think of the French soccer team, the jersey certainly turned out beautiful.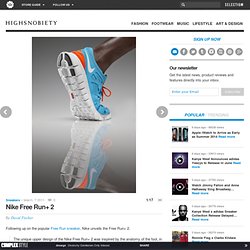 Following up on the popular Free Run sneaker , Nike unveils the Free Run+ 2. The unique upper design of the Nike Free Run+ 2 was inspired by the anatomy of the foot, in which seemingly delicate bones, ligaments, tendons, and muscles are interconnected in a remarkable latticework that enables the foot to support enormous impact and pressure. Similarly, the multi-layered upper design of the Nike Free Run+ 2 features minimal overlays that allow for a much wider range-of-motion than would be possible in a conventional running shoe. But, working in concert, those layers are also sufficiently robust to provide the support runners need. Learn all about the sneaker in the video below:
Nike Free Run+ 2 Sneakers
Nike Sportswear x ?uestlove Dunk Collection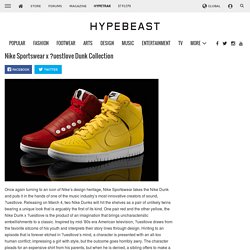 Once again turning to an icon of Nike's design heritage, Nike Sportswear takes the Nike Dunk and puts it in the hands of one of the music industry's most innovative creators of sound, ?uestlove. Releasing on March 4, two Nike Dunks will hit the shelves as a pair of unlikely twins bearing a unique look that is arguably the first of its kind. One pair red and the other yellow, the Nike Dunk x ?uestlove is the product of an imagination that brings uncharacteristic embellishments to a classic.
Liberty x Nike Sportswear 2011 Summer Preview
Nike Stadium MFG Features – Chris Bosh Destroyer Jacket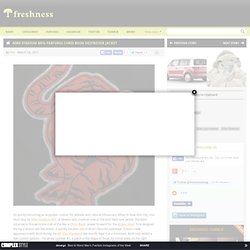 Its quickly becoming an unspoken custom for athletes and cultural influencers. When in New York City, one must stop by Nike Stadium NYC at Bowery and create an one-of-the-kind Destroyer Jacket. The latest inductee to this exclusive club of the few is Chris Bosh , power forward for the Miami Heat . First designed during a session last December, it quickly became one of Bosh's favorite outerwear. It even made appearance with Bosh during the All-Star Weekend last month.
Nike Sportswear "AMERICAN MADE" Episode 3
Jordan Brand x Casio G-Shock Watch Collection
Casio G-Shock teams up with Jordan Brand for a special set of watches making their debut for this year's NBA All-Star Weekend. Available in limited quantities, three models are highlighted including an electric blue with subtle royal blue details DW6900CB-2, fire engine red paired with black and orange contrasts DW6900CB-4, and stealth black on black GD100B-1. Each timepiece is emblazoned with the iconic Jordan Jumpman logo. Performance features include shock resistance, water resistance to an incredible 200 meters, flash alert, multi-function alarm, countdown timer, 1/100 second stopwatch and 12/24 hour formats. The collection will be available during NBA All-Star Weekend for $100 USD at Footaction stores.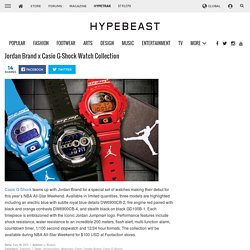 The last Nike 10K in Buenos Aires challenged the notion of what it means to have and earn 'followers' – and if this is an accurate prediction of influence – by pitting race competitors against each other both in an actual, offline race and on Twitter. A collaboration between Nike , BBDO Argentina and +Castro resulted in the Nike InterTwitter race , in which an application compared and visualized the number of literal 'followers' a racer had in the actual 10K (via their race times) to the number of Twitter followers they were able to generate and maintain online. 10K competitors were invited to enter at werunbuenosaires.com/intertwitter , and to challenge their followers and those who they followed.
The Nike InterTwitter Race
Des baskets Nike édition limitée Twitter, Firefox et Google
Vous vous souvenez des chaussures Adidas version Twitter et Facebook ? Il faut croire que les réseaux sociaux et le web inspirent les artistes, puisque Brass Monkey vient de sortir des modèles de Nike customisés aux couleurs de Twitter, Firefox et Google. Spécialisé dans la personnalisation de sneakers, le site propose également de nombreux autres modèles, notamment dédiés aux Simpsons ou à) la coupe du monde. David Reese, leur créateur, s'est donc attaqué aux sites (et navigateurs) les plus populaires du moment, montrant bien la corrélation entre amateurs de sneakers et geeks. Les résultats sont plutôt sympas, mais comptez entre 400 et 800 dollars par paire, et encore si vous en trouvez une, elles ont visiblement toutes été écoulées.
Nike Sportswear 21 Mercer - K.O.B.E. Collection + BHM Pack Build Out
Nike se met à la basket 3D
King of the Road: Episode 6 featuring Nike SB
Nike Sportswear French Football Federation (FFF) Illustrated Lookbook
Nike & MK2 Present Dripping
Nike Sportswear French Football Federation Lookbook
Illegal Advertising, Nike Take Control
Dominate Another Day: Air Jordan 2011
Robert Rodriguez x Kobe Bryant 'Black Mamba' Trailers
Lifestyle - Adidas, Air Jordan, Nike, New balance, Puma, Reebok, Vans, Sneaker, Wear, Art. - Page 2
Téléchargez Nike+ GPS pour lancer des défis à vos amis
Nike - Vive le Football Libre
Football : l'équipe de France découvre son premier maillot Nike
« Enfants de la Partie » par Kim Chapiron
Nike FFF Campaign
Nike 6.0 iD Nation
Nike and Tom Tom launch GPS sports watch
Nike ID Generator Harajuku – Tes sneakers aux couleurs de tes fringues du jour
D-Wade Again Mimics Bond in Latest 'Dominate' Nike Effort - AgencySpy
Nike: Jumpman23 CP3K the game
Nike Sportswear – Spring 2011 Collection Preview
Nike SB Paul Rodriguez 2011 Spring Collection
Nike / Defiant
Nike 10k: Who Follows Who? 
Le plus grand magasin Nike du monde