IBM
XL Software Downloads
AIX Documentation
Introduction to Service Data Objects
Put simply, SDO is a framework for data application development, which includes an architecture and API. SDO does the following: Simplifies the J2EE data programming model Abstracts data in a service oriented architecture (SOA) Unifies data application development Supports and integrates XML Incorporates J2EE patterns and best practices In this introduction to the SDO framework, we will try to explain the motivation behind the SDO effort and the differences between SDO and other specifications.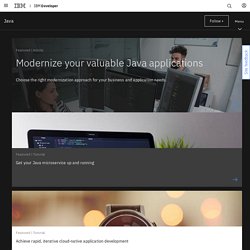 IBM SDK et Runtime Environment pour plateformes Linux, Java 2 Technology Edition, Version 5.0
Paris Laboratory SAS
http://publib.boulder.ibm.com/infocenter/wasinfo/v5r1/index.jsp
https://w3-103.ibm.com/software/xl/portal/!ut/p/.scr/Login
Comité d'Entreprise IBM Centre-Ouest
Paris Lab Intranet
IBM Learning | Useful links
IBM Learning | Creating Your IDP : The Golden Clicks.