Preparedness
now available FREE on an offline 4xDVD set to Third World/Developing Countries - 4000 Electronic Books online and offline with Practical Technical Development Information for the Third World. Agriculture, Health, Education, Small Industries etc etc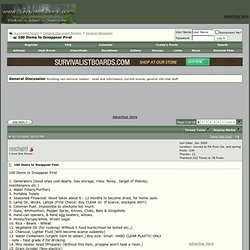 100 Items to Disappear First 1. Generators (Good ones cost dearly.
100 Items to Disappear First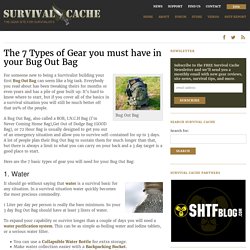 Bug Out Bag For someone new to being a Survivalist building your first Bug Out Bag can seem like a big task. Everybody you read about has been tweaking theirs for months or even years and has a pile of gear built up. It's hard to know where to start, but if you cover all of the basics in a survival situation you will still be much better off that 99% of the people.
First Aid: Your First Aid Kit
The Big List -- Contents
OHS - Red Dirt Ready - Home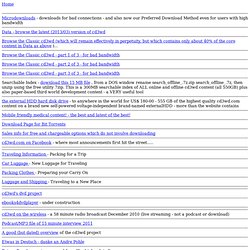 Home Microdownloads - downloads for bad connections - and also now our Preferred Download Method even for users with high bandwidth Data - browse the latest (2013/03) version of cd3wd
CD 3rd World - http://www.cd3wd.com