Physics
Get flash to fully experience Pearltrees
lectures
Stephen W. Hawking - Public Lectures
Einstein for Everyone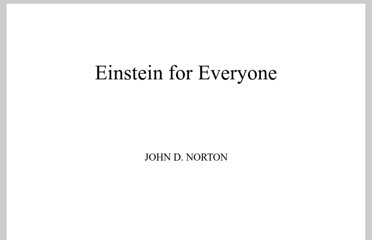 Einstein for Everyone Nullarbor Press 2007 revisions 2008, 2010, 2011, 2012, 2013 Copyright 2007, 2008, 2010, 2011, 2012 John D. Norton Published by Nullarbor Press, 500 Fifth Avenue, Pittsburgh, Pennsylvania 15260 with offices in Liberty Ave., Pittsburgh, Pennsylvania, 15222
See How It Flies
TOP TEN UNSOLVED PROBLEMS IN PHYSICS
8.02 Video Lectures
Electricity and Magnetism
Eric Weisstein's World of Physics
Build an Atom
Personal and Historical Perspectives of Hans Bethe
Britney Spears' Guide to Semiconductor Physics - Lasers and Optoelectronics
Here is an alphabetical list of online physics books available for free download. There are books covering the areas of classical mechanics, thermodynamics, electromagnetism, optics, quantum physics, atomic and nuclear physics, astrophysics, and more. The books are stored in various formats for downloading or online reading. Here is a categorized directory of physics books . This list will be updated daily. 001.
Free Physics Books
Sixty Symbols - Physics and Astronomy videos
If Satan plays miniature golf, this is his favorite hole. A ball struck at A, in any direction, will never find the hole at B — even if it bounces forever. The idea arose in the 1950s, when Ernst Straus wondered whether a room lined with mirrors would always be illuminated completely by a single match. Straus' question went unanswered until 1995, when George Tokarsky found a 26-sided room with a "dark" spot; two years later D. Castro offered the 24-sided improvement above. If a candle is placed at A, and you're standing at B, you won't see its reflection anywhere around you — even though you're surrounded by mirrors.
The Black Hole
We have been increasingly using Flash animations for illustrating Physics content. This page provides access to those animations which may be of general interest. The animations will appear in a separate window. The animations are sorted by category, and the file size of each animation is included in the listing. Also included is the minimum version of the Flash player that is required; the player is available free from http://get.adobe.com/flashplayer/ .
Physics Flash Animations
Stephen Wolfram: Computing a theory of everything
Back to main course page John D. Norton Department of History and Philosophy of Science University of Pittsburgh
Problem of Reciprocity