The History of Information (VI)
Rise of Broadcast (Lecture 20)
Media unlimited: how the torrent of ...
History of Television - Archive Collection
IN 1948 ONLY ONE AMERICAN IN TEN had seen a television, but everyone was talking about it. TV's enthusiasts predicted that "children will go to school in their own living rooms, presidential candidates will win elections from a television studio. Housewives will see on the screen the dresses and groceries they want, and shop by phone."
A Science Odyssey: People and Discoveries: KDKA begins to broadcast
KDKA begins to broadcast1920 Photo: Beginnings of KDKA, with entire staff of four On Christmas Eve, 1906, wireless operators on ships off the New England coast wondered if they'd had a religious experience.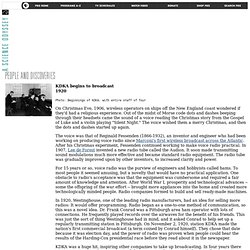 Charles Edward Coughlin, commonly known as Father Coughlin, (October 25, 1891 – October 27, 1979) was a controversial Roman Catholic priest at Royal Oak, Michigan's National Shrine of the Little Flower church. He was one of the first political leaders to use radio to reach a mass audience, as possibly thirty million listeners tuned to his weekly broadcasts during the 1930s. Early life and work[edit]
Charles Coughlin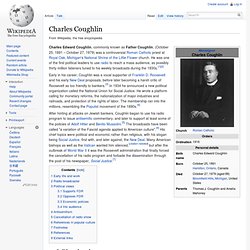 Before television, radio was the dominant home entertainment medium. The Golden Age of Radio (sometimes referred to as old–time radio) refers to a period of radio programming in the United States lasting from the proliferation of radio broadcasting in the early 1920s until television's replacement of radio as the primary home entertainment medium in the 1950s. During this period, when radio was dominant and filled with a variety of formats and genres, people regularly tuned into their favorite radio programs.
Old-time radio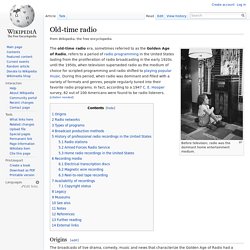 Documenting Early Radio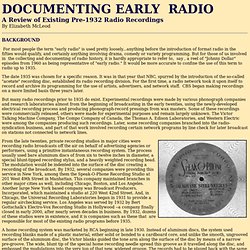 DOCUMENTING EARLY RADIOA Review of Existing Pre-1932 Radio RecordingsBy Elizabeth McLeod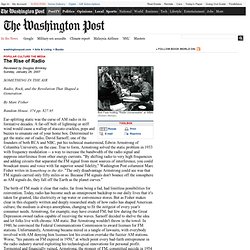 By Marc Fisher
The Rise of Radio
New technologies have often ended up with very different uses than their inventors intended.
Between the Wars: Radio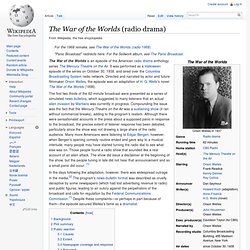 The War of the Worlds (radio drama)
The War of the Worlds is an episode of the American radio drama anthology series The Mercury Theatre on the Air. It was performed as a Halloween episode of the series on October 30, 1938, and aired over the Columbia Broadcasting System radio network. Directed and narrated by actor and future filmmaker Orson Welles, the episode was an adaptation of H.
Federal Radio Commission
Federal Radio Commission Seal The Federal Radio Commission (FRC) was a government body that regulated radio use in the United States from its creation in 1926 until its replacement by the Federal Communications Commission (FCC) in 1934.
The FCC was formed by the Communications Act of 1934 to replace the radio regulation functions of the Federal Radio Commission. The FCC took over wire communication regulation from the Interstate Commerce Commission.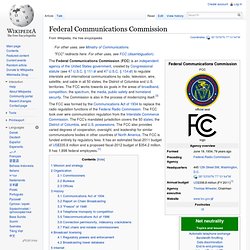 Federal Communications Commission
Public broadcasting
Public broadcasting includes radio, television and other electronic media outlets whose primary mission is public service.
Media and the American Mind
The early history of radio is the history of technology that produced radio instruments that use radio waves.
History of radio
United States Early Radio History
Rise of Mass Communications (Lecture 19)
Propaganda
Propaganda is a form of communication aimed towards influencing the attitude of the community toward some cause or position by presenting only one side of an argument. Propaganda statements may be partly false and partly true. Propaganda is usually repeated and dispersed over a wide variety of media in order to create the chosen result in audience attitudes.
Triumph des Willens (Full movie - English subbed)
Frank Capra's "Why We Fight" World War II Propaganda Series
-----------OVER 530 Videos UPLOADED----------
Why we Fight
AdamicGlanceBlogWWW.pdf (application/pdf Object)
Media Research Center
McClure's (cover, January 1901) published many early muckraker articles.
Muckraker
Nellie Bly
Penny press
Yellow journalism
Crucible Of Empire : The Spanish-American War - PBS Online
Dime novel
Inverted pyramid
Stereotype (printing)
Pitman shorthand
History of journalism
Freedom's Journal, the first African-American owned and operated newspaper published in the US
International History of Journalism - Mitchell Stephens
The Impact of Photography (Lecture 18)
Mathew Brady
Beaumont Newhall
Beaumont Newhall - Dictionary of Art Historians
Civil War Photography | History Detectives
Photography and the Civil War, 1861–1865 | Thematic Essay
10 Most Famous Doctored Photos - Oddee.com (famous photographs, fake photos...)
Urban Legends Reference Pages: (John Kerry)
Reading Susan Sontag's On Photography home page
Sontag_platos_cave.pdf (application/pdf Object)
Daguerreotype
Daguerreotypes: Special Presentation
Camera obscura
Photojournalism
[Get the Picture: Personal Photojournalism
Get the Picture: A Personal History of Photojournalism (Crime & Justice: a Review of Research; Crime & Justice: a Review of Research) (9780226539140): John G. Morris