Study
HAISLN_9th-10th_grade_2012_Final
HAISLN_7th-8th_2012_Final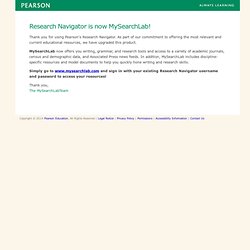 The Research Process
Thank you for using Pearson's Research Navigator. As part of our commitment to offering the most relevant and current educational resources, we have upgraded this product. MySearchLab now offers you writing, grammar, and research tools and access to a variety of academic journals, census and demographic data, and Associated Press news feeds. In addition, MySearchLab includes discipline-specific resources and model documents to help you quickly hone writing and research skills.
About New! Scribe 3.5 is available: Download Scribe 3.5 New Features in Scribe 3.5 Improved export to Zotero - Read about Scribe to Zotero Transition Cleans up undefined empty cards on import from previous versions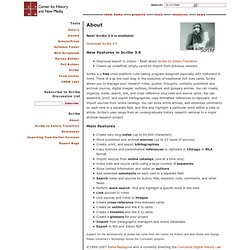 Center for History and New Media - Scribe
Critical Thinking Model 1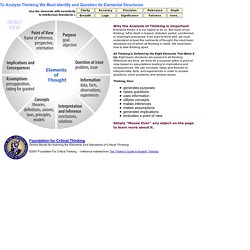 To Analyze Thinking We Must Identify and Question its Elemental Structures Standard: Clarity understandable, the meaning can be grasped Could you elaborate further?
While each of us has our own particular needs, I'm sure one or more of these apps will serve your needs. So get ready to set up a folder on your tablet and download a useful collection of resources. Evernote At the top of the list, the popular Evernote app (iTunes Store Link) and web syncing service is an essential tool for writing on the iPad. You can throw in all kinds of text based files, as well as photos and audio notes, into Evernote which will automatically sync all your notes to your iPad, as well as your Mac or PC. Evernote includes a basic text writing tool that of course also syncs back to your computer or other devices.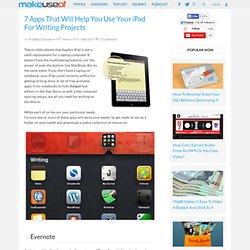 Top 100 Homeschool Blogs
While their motivations and methods may vary, those who travel parallel homeschool paths are united by a passion to be active participants in and witnesses to the education of their children. The homeschool blog community plays a big part in making the journey a little less lonely as its members offer support along each step of the way. I Can Teach My Child 1st-grade teacher turned homeschooling mom Jenae shares tips as practical as stamping out stinky sippy cups and moments as memorable as a treasure hunt at grandpa's house on "I Can Teach My Child", a blog that honors the importance of being a child's first teacher and offers original ideas along with wisdom culled from the community of homeschool bloggers.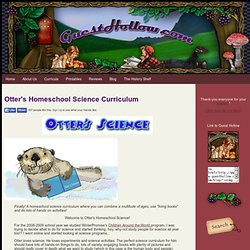 Finally! A homeschool science curriculum where you can combine a multitude of ages, use "living books" and do lots of hands on activities! Welcome to Otter's Homeschool Science! For the 2008-2009 school year we are studying WinterPromise's Children Around the World program. I was trying to decide what to do for science and started thinking, hey, why not study people for science all year too!?
Homeschool Science Curriculum
Three Golden Rules for book reviewing: What are they? - By Robert Pinsky
AudioBooksForFree.com