News Stories
Red Eye w/Greg Gutfeld - Fox News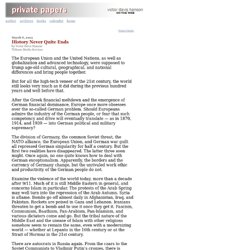 History Never Quite Ends
Printer Friendly The European Union and the United Nations, as well as globalization and advanced technology, were supposed to trump age-old cultural, geographical, and national differences and bring people together. But for all the high-tech veneer of the 21st century, the world still looks very much as it did during the previous hundred years and well before that.
Printer Friendly R ush Limbaugh has got the progressives pitching a fit over some remarks on his radio show about a Georgetown University law student named Sandra Fluke. Fluke had made the preposterous claim, while addressing House Democrats over President Obama's rule forcing Catholic institutions to pay for contraception, that the cost of birth control was prohibitive for Georgetown law students. Limbaugh responded by calling Fluke a "slut" and a "prostitute" who is "having so much sex, she can't afford the contraception; she wants you and me – the taxpayers – to pay her." Progressive dudgeon hit the stratosphere.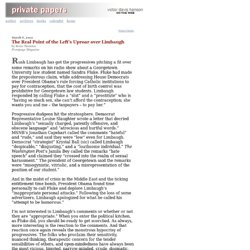 The Real Point of the Left's
Printer Friendly Faster or Smarter, Neither, Both? I am not a Luddite who wants to destroy looms.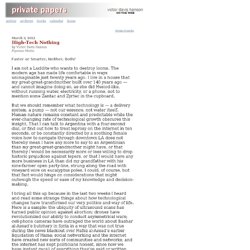 High-Tech Nothing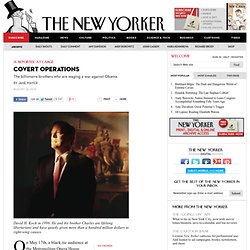 On May 17th, a black-tie audience at the Metropolitan Opera House applauded as a tall, jovial-looking billionaire took the stage. It was the seventieth annual spring gala of American Ballet Theatre, and David H. Koch was being celebrated for his generosity as a member of the board of trustees; he had recently donated $2.5 million toward the company's upcoming season, and had given many millions before that. Koch received an award while flanked by two of the gala's co-chairs, Blaine Trump, in a peach-colored gown, and Caroline Kennedy Schlossberg, in emerald green.
Dog Shoots Man
The Weird Week in Review