News Stories
Conservative news, politics, opinion, breaking news analysis, political cartoons and commentary – Townhall.
Poll Vault
Thomas Sowell. Andrew Breitbart. Red Eye w/Greg Gutfeld - Fox News. [2010] The billionaire Koch brothers' war against Obama. On May 17th, a black-tie audience at the Metropolitan Opera House applauded as a tall, jovial-looking billionaire took the stage.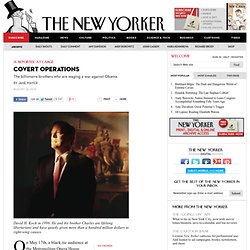 It was the seventieth annual spring gala of American Ballet Theatre, and David H. Koch was being celebrated for his generosity as a member of the board of trustees; he had recently donated $2.5 million toward the company's upcoming season, and had given many millions before that. Koch received an award while flanked by two of the gala's co-chairs, Blaine Trump, in a peach-colored gown, and Caroline Kennedy Schlossberg, in emerald green. The Weird Week in Review. Dog Shoots Man A man in Brigham City, Utah was shot by his own dog during a duck hunt.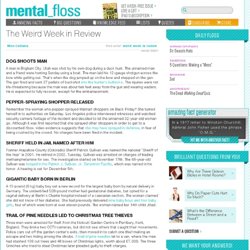 The unnamed man and a friend were hunting Sunday using a boat. The man laid his 12-gauge shotgun across the bow while getting out. That's when the dog jumped up on the bow and stepped on the gun.
---