Récits, conversations, fictions
L'aventure des mots de la ville - UrbaNews.fr.
FRANÇAIS La ville — réelle, imaginaire, imaginée, réinventée — s'offre à nous à la fois comme espace de représentation et comme espace représenté. Cette session vise à mettre en commun les travaux de chercheurs s'intéressant aux modes de construction de l'imaginaire urbain et à la place qu'y prennent les images et les mots, les images de mots ou les mots-images, à travers les diverses formes de représentation que sont la propagande, la publicité, le cinéma, les arts visuels et médiatiques, la littérature, la représentation cartographique, etc. De Brasilia à Las Vegas, du Paris haussmannien au Pékin Olympique, de la Rome antique au Dubaï post-moderne, les images et discours sur la ville se construisent, se complexifient, se fragmentent au gré des désirs, des aspirations et des fantasmes d'acteurs aux intérêts divers: ils jouent ainsi un rôle essentiel dans la représentation sociale et la construction identitaire urbaine.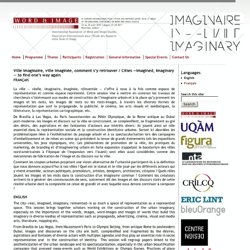 Ville imaginaire, ville imaginée, comment s'y retrouver / Cities —imagined, imaginary — to find one's way again | Bienvenue sur le site Web du 9e congrès AIERTI-IAWIS 2011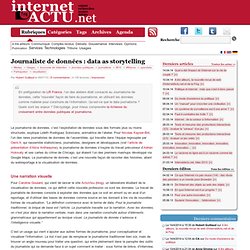 Par Hubert Guillaud le 09/07/10 | 8 commentaires | 4,050 lectures | Impression
The Virtual World Language: the communication "via-avatar" on Vi
How to Add Anything to the Internet of Things: Cr
Every object in existence can be tagged with any media, linked to tell a story, to recount its memories in a read/write environment and tweet when its interacted with.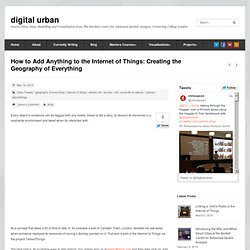 Pst!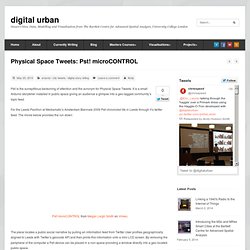 Physical Space Tweets: Pst! microCONTROL