Récits, conversations, fictions
How to Read 1,000,000 Manga Pages: Visualizing Patterns in Games, Comics, Art, Cinema, Animation, TV, and Print Media | MIT World. L'aventure des mots de la ville - UrbaNews.fr. Journaliste de données : data as storytelling. Par Hubert Guillaud le 09/07/10 | 8 commentaires | 4,135 lectures | Impression En préfiguration de Lift France, l'un des ateliers était consacré au Journalisme de données, cette "nouvelle" façon de faire du journalisme, en utilisant les données comme matériel pour construire de l'information.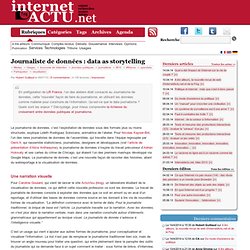 Qu'est-ce que le data journalisme ? Quels sont les enjeux ? Décryptage, pour mieux comprendre la richesse du croisement entre données publiques et journalisme. Augmented Reality Browser: Layar. Walking the Edit - The Virtual World Language: the communication "via-avatar" on Vi. Welcome! - Tales of Things. How to Add Anything to the Internet of Things: Cr. Every object in existence can be tagged with any media, linked to tell a story, to recount its memories in a read/write environment and tweet when its interacted with.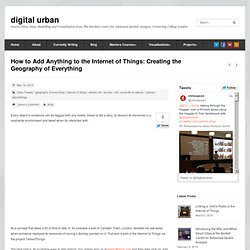 Its a concept that takes a bit of time to take in, for example a wall in Camden Town, London, tweeted me last week when someone replayed its memories of having a Banksy painted on it. That wall is part of the Internet of Things via the project TalesofThings. The best part is, its incredibly easy to add objects. Physical Space Tweets: Pst! microCONTROL. Pst!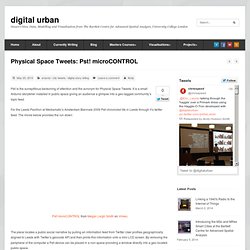 Is the surreptitious beckoning of attention and the acronym for Physical Space Tweets. It is a small Ardunio storyteller installed in public space giving an audience a glimpse into a geo-tagged community's topic feed. For the Leeds Pavillion at Mediamatic's Amsterdam Biennale 2009 Pst!
---