Récits, conversations, fictions
L'aventure des mots de la ville - UrbaNews.fr.
FRANÇAIS La ville — réelle, imaginaire, imaginée, réinventée — s'offre à nous à la fois comme espace de représentation et comme espace représenté. Cette session vise à mettre en commun les travaux de chercheurs s'intéressant aux modes de construction de l'imaginaire urbain et à la place qu'y prennent les images et les mots, les images de mots ou les mots-images, à travers les diverses formes de représentation que sont la propagande, la publicité, le cinéma, les arts visuels et médiatiques, la littérature, la représentation cartographique, etc. De Brasilia à Las Vegas, du Paris haussmannien au Pékin Olympique, de la Rome antique au Dubaï post-moderne, les images et discours sur la ville se construisent, se complexifient, se fragmentent au gré des désirs, des aspirations et des fantasmes d'acteurs aux intérêts divers: ils jouent ainsi un rôle essentiel dans la représentation sociale et la construction identitaire urbaine.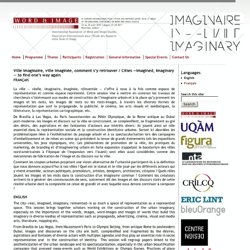 Ville imaginaire, ville imaginée, comment s'y retrouver / Cities —imagined, imaginary — to find one's way again | Bienvenue sur le site Web du 9e congrès AIERTI-IAWIS 2011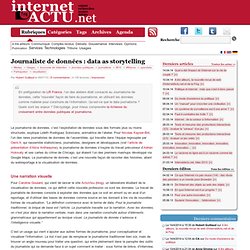 Par Hubert Guillaud le 09/07/10 | 8 commentaires | 4,050 lectures | Impression En préfiguration de Lift France, l'un des ateliers était consacré au Journalisme de données, cette "nouvelle" façon de faire du journalisme, en utilisant les données comme matériel pour construire de l'information. Qu'est-ce que le data journalisme ? Quels sont les enjeux ? Décryptage, pour mieux comprendre la richesse du croisement entre données publiques et journalisme.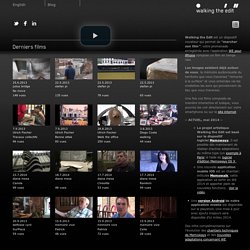 Loaded: 0% Progress: 0% Walking the Edit est un dispositif novateur qui permet de "marcher son film": votre promenade enregistrée avec l'application WE pour iPhone compose un film en temps réel. Les images existent déjà autour de vous: la mémoire audiovisuelle du territoire que vous traversez "remonte à la surface" et vous entendez via les oreillettes les sons qui proviennent du lieu que vous traversez.
The Virtual World Language: the communication "via-avatar" on Vi
How to Add Anything to the Internet of Things: Cr
Every object in existence can be tagged with any media, linked to tell a story, to recount its memories in a read/write environment and tweet when its interacted with. Its a concept that takes a bit of time to take in, for example a wall in Camden Town, London, tweeted me last week when someone replayed its memories of having a Banksy painted on it. That wall is part of the Internet of Things via the project TalesofThings. The best part is, its incredibly easy to add objects.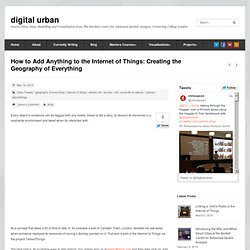 Pst! is the surreptitious beckoning of attention and the acronym for Physical Space Tweets. It is a small Ardunio storyteller installed in public space giving an audience a glimpse into a geo-tagged community's topic feed. For the Leeds Pavillion at Mediamatic's Amsterdam Biennale 2009 Pst!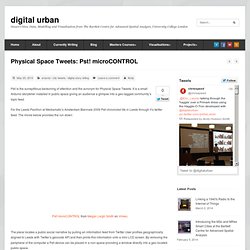 Physical Space Tweets: Pst! microCONTROL