Social media
Bess LaMess. Top 10 Websites to Manage Multiple Twitter Accounts Online for Free. If you have more than one Twitter account, how do you manage them?
Instead of transferring one account to another by login and logout, you are able to mange multiple Twitter accounts in one place with some tools, and among those tools, below are the best 10 websites that let you manage multiple Twitter accounts online for without downloading. 1. Brizzly Brizzly lets you manage multiple Twitter accounts as well as your Facebook account, and its features include that new direct messages will be displayed on the current page, short URLs will be expanded automatically, Twitter lists are supported, and so on. Cross-posting tools: Be efficient — but be smart. Tweet 15 apps, plug-ins & dashboards to increase your social media productivity By Kim Bale Socialbrite staff Managing social media accounts can be a full-time job, especially with an extensive Web presence spanning sites from Twitter and Facebook to WordPress and YouTube.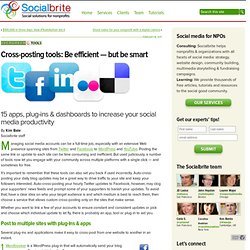 Posting the same link or update to each site can be time consuming and inefficient. Social Media Management Dashboard. Comprehensive Guide to StumbleUpon | Techblaster.NET. StumbleUpon is not just another social bookmarking site, because it will drive tons (thousands) of traffic to a blog/website within minutes.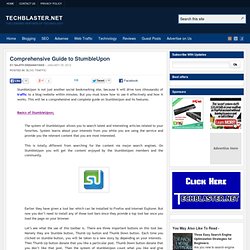 But you must know how to use it effectively and how it works. This will be a comprehensive and complete guide on StumbleUpon and its features. Ping.fm dashboard. Seesmic has been acquired by HootSuite and as of March 2013, the Seesmic website is no longer supported.
But HootSuite welcomes all Seesmic users into our nest! Here's how you can start using HootSuite today. Making the transition to HootSuite: Experience Project - Personal Stories about any Life Experience.
---