Film + TV
Get flash to fully experience Pearltrees
Human Traffic Very unique comedy about the drug/club culture in the UK. Five friends ponder society, drug use and their own lives as they go about their usual weekend of snorting, smoking, popping, dancing and sex. The Matador Pierce Brosnan plays an assassin going through a mid-life crisis as he approached retirement.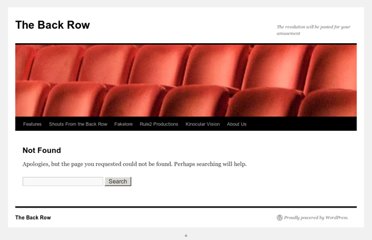 With The Last Exorcism getting its release in theatres this weekend, I thought it only appropriate to pay tribute to a highly underrated film from the man who originally made exorcisms popular. William Peter Blatty was the author of the best-selling novel, The Exorcist , which needless to say, was turned into one of the most popular and successful horror films of all time. Before that, Blatty was a very successful novelist who also did a lot of work as a screenwriter (including the first Pink Panther sequel, A Shot in the Dark ), but since The Exorcist , his name has only been attached to two films. He stepped behind the camera to his direct his novel, "Legion", which was released as The Exorcist III: Legion ... even though the original novel didn't actually contain any exorcism, which meant the studio forced Blatty to shoehorn a brand-new exorcist character into the plot!
SOOOO geeky! Just.... SOOOOOOOOOO geeky!!!! by betlamed Aug 6
by JM The back of the box features praise for the movie by Stuart Gordon. The front of the box features the tagline, "This is one sexy horrific ride". It credits "Special Guest Stars Julie Strain and the Porcelain Twinz" ( I have long been a Julie Strain fan --the abhorrent Delta Delta Die being a personal favorite. I am also happy to report that the "Special Guest Stars" Porcelain Twins have not made a movie since this one).
Sunday, 11 December 2011 12:58 The Editorial Staff Spiritual cinema uplifts and inspires, it explores higher realities and the higher potential of man and woman, it is the modern equivalent of shamanism. The best spiritual films not only dramatize the triumph of the human spirit over adversity, but helps the viewer to triumph as well. Just as film is the artform of "painting with light"... the essential nature of spiritual film has to do with energy. It is the most powerful medium for leading human beings to a state of grace, beauty, truth, love, non-violence, harmony and happiness. Here is a list of some of our favorite spiritual and inspirational films, and we'll provide a quick review in the form of haiku:
It's midnight somewhere. By Phil Nugent and Andrew Osborne "Cult movie" is a hard thing to pin down. For the purposes of this list — celebrating the tenth anniversary of Donnie Darko — we've put a premium on the intensity and selectiveness of a movie's appeal.