Objectivity in Journalism
July 8, 2003 | Like this article?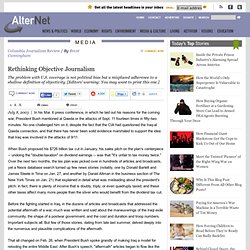 Journalists often claim that their own biases and the pressures from advertisers and media owners do not affect their work because of their professional norm of 'objectivity'. Journalistic objectivity has two components. The first is 'depersonalisation' which means that journalists should not overtly express their own views, evaluations, or beliefs. The second is 'balance' which involves presenting the views of representatives of both sides of a controversy without favouring one side.(Entman 1989, p. 30; Nelkin 1987, p. 91) Associated conventions include: authoritative sources, such as politicians must be quoted (in this way the journalist is seen to distance him- or herself from the views reported, by establishing that they are someone else's opinions); 'fact' must be separated from 'opinion', and 'hard news' from 'editorial comment'; and the presentation of information must be structured pyramidically, with the most important bits coming first, at the 'top' of the story.
The Media - Objectivity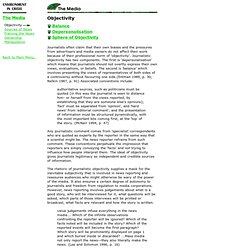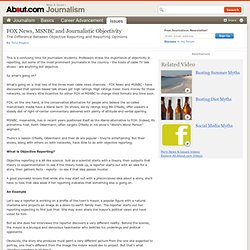 This is a confusing time for journalism students. Professors stress the importance of objectivity in reporting, but some of the most prominent journalists in the country - the hosts of cable TV talk shows - are anything but objective. So what's going on? What's going on is that two of the three main cable news channels - FOX News and MSNBC - have discovered that opinion-based talk shows get high ratings.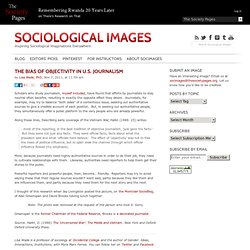 Scholars who study journalism, myself included, have found that efforts by journalists to stay neutral often backfire, resulting in exactly the opposite effect they desire. Journalists, for example, may try to balance "both sides" of a contentious issue, seeking out authoritative sources to give a credible account of each position. But, in seeking out authoritative people, they simultaneously offer a public platform to the very people who are already powerful. Along these lines, Describing early coverage of the Vietnam War, Hallin (1986: 25) writes:
The Bias of Objectivity in U.S. Journalism
Impartiality: The Foxification of news
Without Computer Security, Sources' Secrets Aren't Safe With Journalists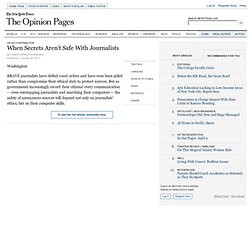 BRAVE journalists have defied court orders and have even been jailed rather than compromise their ethical duty to protect sources. But as governments increasingly record their citizens' every communication — even wiretapping journalists and searching their computers — the safety of anonymous sources will depend not only on journalists' ethics, but on their computer skills. Sadly, operational computer security is still not taught in most journalism schools, and poor data security practices remain widespread in news organizations. Confidential information is sent over regular phone lines and via text messages and e-mail, all of which are easy to intercept. Few journalists use secure-communication tools, even ones that are widely available and easy to use. Government officials often attempt to get journalists to reveal their sources by obtaining subpoenas and compelling testimony and the required telecommunications records.
Journalistic Objectivity: "Getting the Best Obtainable Version of the Truth"
In response to the rapidly changing media environment, many schools and academic programs are offering novel approaches to journalism education. This seismic change creates tensions within programs, especially when it comes to how to teach ethics for this increasingly mixed media.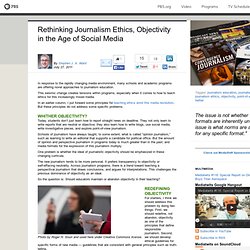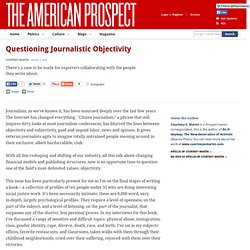 Journalism, as we've known it, has been mourned deeply over the last few years. The Internet has changed everything. "Citizen journalism," a phrase that still inspires dirty looks at most journalism conferences, has blurred the lines between objectivity and subjectivity, paid and unpaid labor, news and opinion. It gives veteran journalists agita to imagine totally untrained people messing around in their exclusive, albeit hardscrabble, club.
The first three years of the Project's work involved listening and talking with journalists and others around the country about what defines the work.