What besttw read
Answers that Marketers Need Our research helps marketers answer three essential questions: how consumers spend their time, how consumers spend their money, and what marketers are doing to reach them. Empowered with this intelligence, our customers confidently make decisions about strategies, tactics and budgets. Research Topics »Why eMarketer » The Fastest Path to Insight Marketing in a digital world means you don't have time to wait for answers.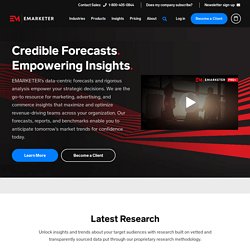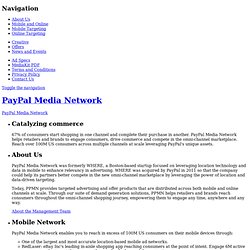 WHERE GPS Mobile Application for the iPhone, BlackBerry, Google
Extend the reach of your existing offers and coupons to targeted consumers through our unique mobile and online distribution channels, or harness the power of our proprietary Closed Loop Offer solution. Closed Loop Offers enable PayPal merchants to make funds available in a consumer's PayPal account that can only be spent within that merchant's points of sale. Drive channel-specific sales with online or in-store only offers, or stimulate omni-channel commerce by making an offer available across all channels. Closed Loop Offers delight the customer: they are automatically applied at checkout when paying with PayPal, creating a frictionless experience for merchant and consumer alike.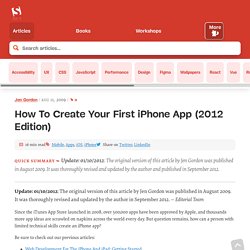 Advertisement Update: 01/10/2012: The original version of this article by Jen Gordon was published in August 2009. It was thoroughly revised and updated by the author in September 2012. — Editorial Team Since the iTunes App Store launched in 2008, over 500,000 apps have been approved by Apple, and thousands more app ideas are scrawled on napkins across the world every day. But question remains, how can a person with limited technical skills create an iPhone app? The good news is anyone can make an iPhone app, it's just a matter of knowing the series of actions you need to take to make it happen.
Browser market share
peoplepods (peoplepods) on Twitter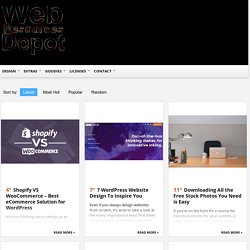 Icons are one of the main elements of any web design. You need an icon to make your user navigate your website, buy something, like something, share something and so forth. Creating icons for every single project may be a challenge, this is why is always good to see what you can find on the web to make your life easier. Read the rest of this entry »
High Earth Orbit
STAMFORD, Conn., November 18, 2009 View All Press Releases Gartner, Inc. has identified the top 10 consumer mobile applications for 2012. Gartner listed applications based on their impact on consumers and industry players, considering revenue, loyalty, business model, consumer value and estimated market penetration.
Identifies the Top 10 Consumer Mobile Applications for 2012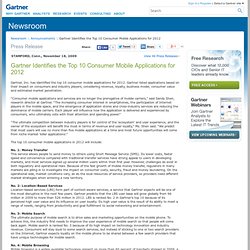 Industry Insights » Omniture Business
北美智權報 NAIPO IP NEWS :: 痞客邦 PIXNET ::
今年8月15日,超過300名重機騎士集結上街頭,從立法院緩慢有秩序的騎乘重機到交通部,表達爭取路權的嚴正抗議。事情緣由開始於從2002年我國加入世界貿易組織(WTO)並開放重機合法進口到現在,交通部的相關政策配套承諾一再跳票,550 C.C.以上的紅牌重機能不能上國道的議題,立法通過「國六、國八、國三」新化以南開放紅牌重機通行,立法院早在去年11月8號就正式立法通過試辦開放重機在限制時段行駛部分國道路段,但政策還未上路,中央地方「不同調」,交通部以地方政府反對為由拒絕開放試辦。騎士們為爭取一直被漠視的路權,選擇騎著重機、守秩序的上了街頭。 550 C.C.以上紅牌重機,騎士配備全套防護裝備,騎士裝厚重如戰甲,防摔褲、防摔衣、防震手套,及最重要的頂級全罩安全帽,馬力等同汽車的重機,卻只能望著高速公路興嘆。偏偏,大型重機的長軸距以及一般機車的兩倍重量,根本就不適合低速在市區內行駛。