What besttw read
Reports
WHERE GPS Mobile Application for the iPhone, BlackBerry, Google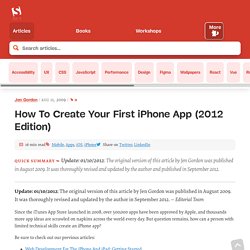 Update: 01/10/2012 : The original version of this article by Jen Gordon was published in August 2009. It was thoroughly revised and updated by the author in September 2012. — Editorial Team Since the iTunes App Store launched in 2008, over 500,000 apps have been approved by Apple, and thousands more app ideas are scrawled on napkins across the world every day. But question remains, how can a person with limited technical skills create an iPhone app? The good news is anyone can make an iPhone app, it's just a matter of knowing the series of actions you need to take to make it happen. Be sure to bookmark this article because it will serve as a guide for learning the process for creating your first iPhone app, going step by step from idea to the App Store.
Firefox is five years old this week. It has also reached another milestone, attaining 25% usage share for the week of November 10th. "What an exciting milestone for Mozilla, particularly as we are celebrating five years of Firefox this week," said Mitchell Baker, Chair, Mozilla. "The momentum around Firefox adoption has been truly astounding."
Browser market share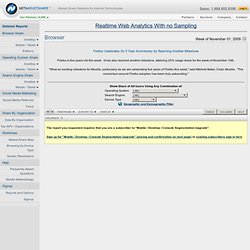 peoplepods (peoplepods) on Twitter
High Earth Orbit
STAMFORD, Conn., November 18, 2009 View All Press Releases Gartner, Inc. has identified the top 10 consumer mobile applications for 2012. Gartner listed applications based on their impact on consumers and industry players, considering revenue, loyalty, business model, consumer value and estimated market penetration.
Identifies the Top 10 Consumer Mobile Applications for 2012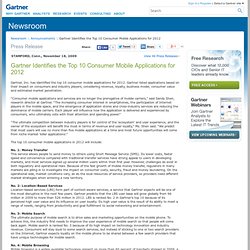 Industry Insights » Omniture Business
北美智權報 NAIPO IP NEWS :: 痞客邦 PIXNET ::
About