VirtualHost
Roadbooks motos : créez et téléchargez vos roadbooks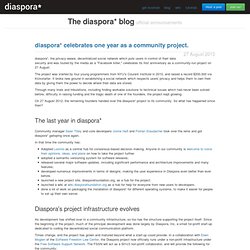 diaspora*, the privacy-aware, decentralized social network which puts users in control of their data security and was touted by the media as a "Facebook killer," celebrates its first anniversary as a community-run project on 27 August. The project was started by four young programmers from NYU's Courant Institute in 2010, and raised a record $200,000 via Kickstarter. It broke new ground in establishing a social network which respects users' privacy and helps them to own their data by giving them the power to decide where their data are stored. Through many trials and tribulations, including finding workable solutions to technical issues which had never been solved before, difficulty in raising funding and the tragic death of one of the founders, the project kept growing. On 27 August 2012, the remaining founders handed over the diaspora* project to its community.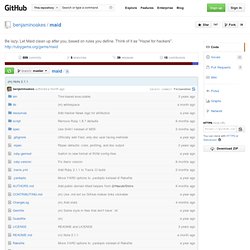 README.md Maid Be lazy! Let Maid clean up after you, based on rules you define. Installation | Tutorial | Example | User Community | Documentation | Change Log
benjaminoakes/maid
Usability in Free Software, a guide by Jan-Christoph Borchardt
Freedom 4: The freedom to use the program effectively, efficiently and satisfactorily. A guide by Jan-Christoph Borchardt. Abstract For a software to truly be free, people need to be able to easily use it without help. This is a quick start to usability testing in a distributed and independent development environment: A collection of usability methods applicable especially in free & open source software projects. No matter if you are a developer, usability person or just enthusiastic about making software easier to use, this document should help you get going.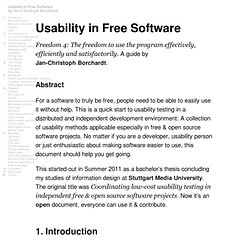 Freedom from web 2.0's monopoly platforms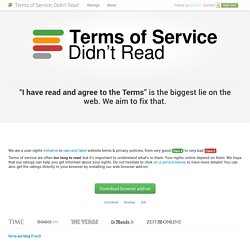 We are a user rights initiative to rate and label website terms & privacy policies, from very good Class A to very bad Class E. Terms of service are often too long to read, but it's important to understand what's in them. Your rights online depend on them. We hope that our ratings can help you get informed abour your rights. Do not hesitate to click on a service below, to have more details!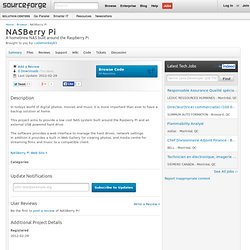 ★ Add a Review 0 Downloads (This Week) Last Update: Browse Code Git Repository In todays world of digital photos, movies and music it is more important than ever to have a backup solution at home. This project aims to provide a low cost NAS system built around the Rasberry PI and an external USB powered hard drive.
NASBerry Pi | Free software downloads at SourceForge
Welcome! | Vimention
smarchive - Cut back on paperwork!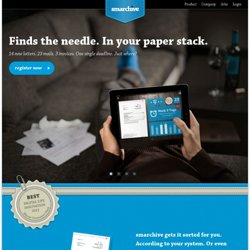 Semantic software. Computers that do the thinking for you. The most special thing about smarchive is the unique algorithm which derives valuable information from your paper documents.
Vous avez quelque chose à dire sur un commerce, un service ou une administration ? Pourquoi ne pas le dire directement au gérant ? Envoyez rapidement et simplement votre remarque grâce à l'application gratuite Critizr. Elle sera transmise directement au gérant pour que vous soyez sûr d'être entendu !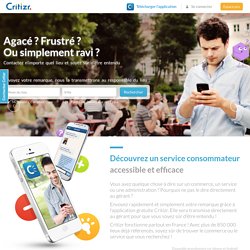 Critizr : faîtes entendre votre voix !
We believe freedom to be an essential condition of human flourishing and technological progress. We see the Internet (and digital services in general) as the vehicle for the greatest expansion of freedom in human history to date. Yet we recognize that the "Internet" of tomorrow may look nothing like the Internet of today. No one can plan the Internet's evolution.
We believe freedom to be an essential condition of...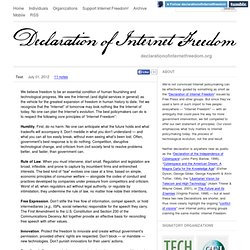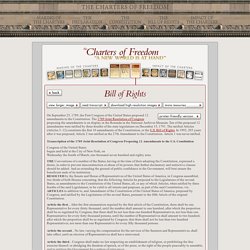 The Bill of Rights: A Transcription The Preamble to The Bill of Rights Congress of the United States begun and held at the City of New-York, on Wednesday the fourth of March, one thousand seven hundred and eighty nine.
http://2067.hypermoi.net