Research Group
National Institute of Advanced Industrial Science and Technology (AIST)
[WCL] Wearable Computer Lab, University of South Australia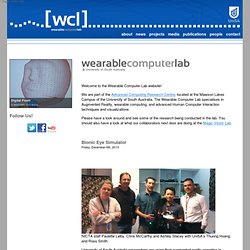 NICTA staff Paulette Lieby, Chris McCarthy and Ashley Stacey with UniSA's Thuong Hoang and Ross Smith. University of South Australia researchers are using their augmented reality expertise to progress ground-breaking bionic eye research in Australia. The Wearable Computer Lab at UniSA has created a backpack wearable computer kit that will be used for vision simulation studies being undertaken by the Vision Processing team at National Information Communications Technology Australia (NICTA) and Bionic Vision Australia.
Microsoft Office Labs
Social bookmarking lets you store, organize, rate, share, and reach your favorite web links from any computer. Since related links are shared by many people, you can find a lot of what you are looking for on any of these social bookmarking sites. To share Office Labs pages, find the content you want to share, click the Share It button, select the desired social bookmarking site from the list by clicking on the corresponding icon (you will need to create an account or sign-in for each site), and submit the bookmark information.
Applied Sciences Group
The Applied Sciences Group (ASG) is an applied research and development team dedicated to creating the next generation of computer interaction technologies. The interdisciplinary group focuses on the synergy between optics, electronics and software to create novel human computer interfaces. The ASG mainly supports projects for next generation computing and interface hardware for Surface, Mobile, Xbox, and Pixel Sense. It also works closely with Microsoft Research.