Java
Object Computing, Inc. — Software Engineering Tech Trends — February 2013. By Rad Widmer, Senior Software Engineer Object Computing, Inc.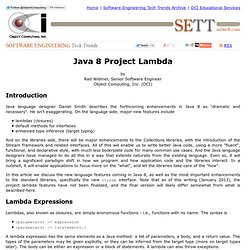 (OCI) Introduction Java language designer Daniel Smith describes the forthcoming enhancements in Java 8 as "dramatic and necessary". Project Jigsaw delayed until Java 9 | Application Development. Project Jigsaw, which is intended to provide a module system for Java, has been deferred from the Java SE (Standard Edition) 8 release planned for next year until Java SE 9, which is due in 2015, a high-ranking Oracle executive revealed on Tuesday.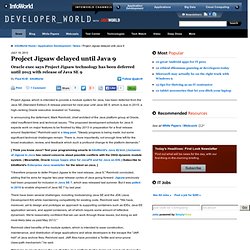 In announcing the deferment, Mark Reinhold, chief architect of the Java platform group at Oracle, cited insufficient time and technical issues. "The proposed development schedule for Java 8 expects work on major features to be finished by May 2013 in preparation for a final release around September," Reinhold said in a blog post. "Steady progress is being made, but some significant technical challenges remain. There is, more importantly, not enough time left for the broad evaluation, review, and feedback which such a profound change to the platform demands. " [ Think you know Java? Google's Android did not infringe Oracle patents, jury finds. IDG News Service - Google's Android operating system does not infringe Oracle's Java patents, a jury in San Francisco found Wednesday, in a setback for Oracle.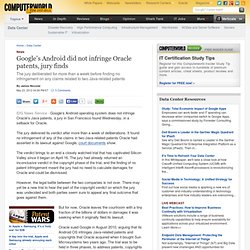 The jury delivered its verdict after more than a week of deliberations. It found no infringement of any of the claims in two Java-related patents Oracle had asserted in its lawsuit against Google, court documents show. Oracle upgrades standard Java, JavaFX | Application Development. Oracle on Thursday is releasing updates to the standard edition of Java and the JavaFX rich client application platform, including the first delivery of the Java Development Kit and JavaFX Software Development Kit for Mac OS X.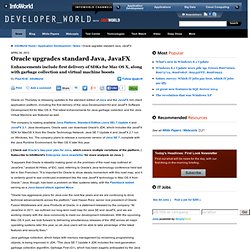 The latest enhancements for Java garbage collection and the Java Virtual Machine are featured as well. The company is making available Java Platform, Standard Edition (Java SE) 7 Update 4 and JavaFX 2.1. NEW VIDEO SERIES: Java SE 7 Certification (Oracle Certification) Oracle has begun releasing the new series of Java SE 7 certifications, including the Oracle Certified Associate (OCA) - Java SE 7 Programmer and the Oracle Certified Professional (OCP) - Java SE 7 Programmer.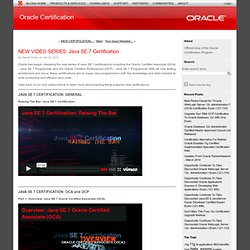 With all new testing architecture and focus, these certifications aim to equip Java programmers with the knowledge and skills needed to write productive and efficient Java code. View each of our new videos below to learn more about earning these powerful new certifications: Raising The Bar: Java SE 7 Certification JAVA SE 7 CERTIFICATION: OCA and OCP. Oracle's ambitious plan for client-side Java | Application Development. Java has long been a hit with enterprise developers, with Java EE powering the back ends of enterprise applications in data centers around the world, while Java application servers and servlet containers enable countless Web applications.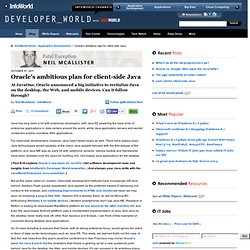 For client-side development, however, Java hasn't fared nearly as well. There have always been Java technologies aimed squarely at the client: Java applets debuted with the first release of the platform, and Java ME was an early hit with cellphone vendors. Various toolkits and frameworks have been released over the years for building rich, GUI-based Java applications for the desktop. [ Paul Krill explains Oracle's new plans for JavaFX. | Get software development news and insights from InfoWorld's Developer World newsletter. | And sharpen your Java skills with the JavaWorld Enterprise Java newsletter. ] But as the years rolled on, modern client-side development methods have increasingly left Java behind.
Oracle releases JavaFX 2.0, shares plans for Java 9 | Application Development. Oracle kicked off the JavaOne conference yesterday by shedding light on upcoming editions of Java and unveiling JavaFX 2.0, a new release of Oracle's platform for building rich client applications.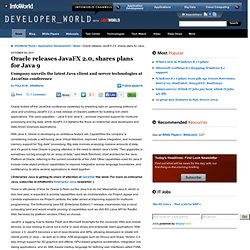 The Java upgrades -- Java 8 and Java 9 -- promise improved support for multicore processing and big data, while JavaFX 2.0 tightens the focus on enterprise Java developers and data-driven business applications. With Java 9, Oracle is developing an ambitious feature set. Capabilities the company is considering include a self-tuning Java Virtual Machine, improved native integration, and increased memory support for "big data" processing. Why OSCON Java? What is OSCON Java?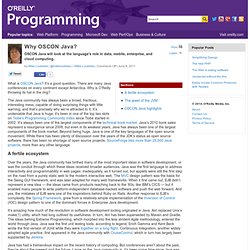 It's a good question. There are many Java conferences on every continent except Antarctica. Why is O'Reilly throwing its hat in the ring? The Java community has always been a broad, fractious, interesting mess, capable of doing surprising things with little warning, and that's precisely why we're attracted to it. It's undeniable that Java is huge; it's been in one of the top two slots on Tiobe's Programming Community Index since Tiobe started in 2002. Language of the Month: Groovy++, How Java and Groovy Can Be Better | Dr Dobb's Journal. Java Use Increases Among Developers Worldwide: Survey - Application Development. Updated Oracle NetBeans IDE offers Java 7. News By Joab Jackson April 20, 2011 08:01 AM ET IDG News Service - Developers will be able to test-drive the next generation Java programming language by using the new version of Oracle's NetBeans IDE, released Wednesday.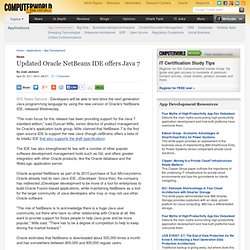 "The main focus for this release has been providing support for the Java 7 standard edition," said Duncan Mills, senior director of product management for Oracle's application tools group. Launching Cloud Foundry, The Industry's First Open PaaS. Today, we have exciting news for developers: the launch of Cloud Foundry : an open source "Platform as a Service" (PaaS) from VMware allowing easy deployment of applications written using Spring, Rails and other modern frameworks.
Cloud Foundry breaks new ground in PaaS through supporting a choice of programming models; a choice of services from VMware and third parties; a choice of clouds for deployment; and being delivered in open source. Since the creation of Spring , we've remained faithful to a few core values: notably, Productivity and Portability. Today, these proven values extend beyond Spring and Java into VMware's broader cloud computing strategy . Spring makes developers more productive by reducing time spent away from business logic; Cloud Foundry eliminates time spent installing and configuring infrastructure such as application servers and JVMs. Java founder Gosling joins Google - Software.
A confirmation email has been sent to your email address - SUPPLIED GOES EMAIL HERE . Please click on the link in the email to verify your email address. You need to verify your email before you can start posting. If you do not receive your confirmation email within the next few minutes, it may be because the email has been captured by a junk mail filter. Please ensure you add the domain @itnews.com.au to your white-listed senders. Oracle asks for help planning JDK 8. Oracle wants help in figuring out what should go into Java Development Kit 8, the next-generation development platform for the programming language. "It's time to start thinking about planning JDK 8," wrote Mark Reinhold, chief architect for the Java platform group in a post to the mail.openjdk.java.net list on Monday.
"We already know what some of the big-ticket items are likely to be. There'll be room for other features too, however, both large and small. eXo Unveils New Cloud Tool for Java Developers - Application Development. eXo, a Java portal infrastructure provider, has announced the latest version of its platform, along with a new cloud developer service for Java platform as a service. In a March 15 announcement, eXo unveiled its roadmap to take modern enterprise portals, gadgets and mashups to cloud computing environments. For enterprise companies that have invested in Java, eXo is offering a path to the cloud that will help reduce costs, simplify administration and substantially shorten time-to-deployment for new applications.
A First Taste of InvokeDynamic. Greetings, readers! Over the past couple weeks I've had a few departures from typical JRuby development. I consider it a working vacation. Double entendre. I have said "The Future of Java is Groovy" and I meant it deliberately as a double entendre. The future of Java is indeed groovy and is indeed Groovy. This does not mean Java will be supplanted by Groovy, or some other language.
Instead, the future of the JVM and the technology stack that calls the JVM home is tied more to technological off-shoots like Groovy than it is to any other purist re-engineering of the JVM or the core Java language. Java is what it is at this point. Tools like Groovy give developers the chance to get a gentle introduction to new techniques such as Functional Programming, Parallel Computing, Domain Specific Langauges, Runtime Metaprogramming, and Compiletime Metaprogramming, as well as a whole host of other techniques and technologies. The Well-Grounded Java Developer. Interview with Brian Goetz, Language Architect, Java.
Stuff I've learned recently… Java Web Application Development Kick off – Technical Items. Developers: Java Lives. Laforge and Rocher Discuss the future of Groovy, Grails and Java. Welcome! Mark Reinhold's Blog. Java Is Under Siege. Will Oracle Let It Burn?: Tech News « JavaOne 2010 Opening Keynote | JavaWorld's Daily Brew. Groovy style and language feature guidelines for Java developers. Overview (Java Platform SE 6) The Really Big Index.
Oracle and Java. Welcome to NetBeans. Simultaneous Release. Eclipse.org - Helios Simultaneous Release! Java: The Movie! Humor for Geeks.
---