Monde Arabe
La connaissance a toujours joué un rôle central dans le développement. Pour relever les défis considérables auxquels ils ont à faire face, et particulièrement le besoin de créer des emplois en grand nombre et d'établir des économies plus productives, les pays arabes devraient s'engager dans des stratégies de développement fondées sur l'économie de la connaissance et l'innovation.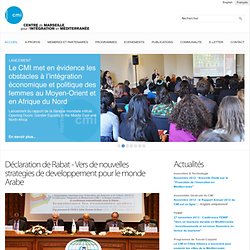 CMI - Centre de Marseille pour l'Intégration en Méditerranée
Les cyber-activistes arabes face à la liberté sur Internet made in USA : Nawaat de Tunisie – Tunisia
Cet article se concentre sur le cyber-activisme de base dans le monde arabe et les risques encourus d'une collision inévitable avec la politique étrangère et les intérêts US. Il résume l'essentiel des discussions que j'ai eues, ces deux dernières années, avec de multiples acteurs engagés dans la défense de la liberté d'expression sur Internet et dans l'utilisation de la technologie pour le changement social et politique. Bien que le sujet principal demeure l'activisme numérique arabe, j'y ai inclus les problématiques et inquiétudes similaires soulevées par des activistes et défenseurs de la liberté d'expression sur Internet issus d'autres parties du monde comme la Chine, la Thaïlande et l'Iran.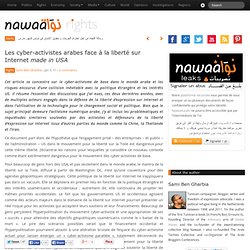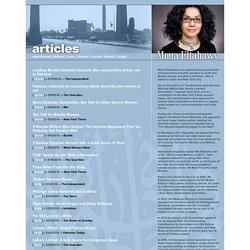 Mona Eltahawy is an award-winning columnist and an international public speaker on Arab and Muslim issues. She is based in New York. Her opinion pieces have been published frequently in media across the world, including The Washington Post and the International Herald Tribune and she has appeared as a guest analyst in several media outlets. She was a columnist for the Toronto Star, Jerusalem Report and Politiken until 2011 since when her columns have appeared in the Guardian. During the 18-day revolution that toppled Egypt's President Hosni Mubarak, she appeared on most major media outlets, leading the feminist website Jezebel to describe her as "The Woman Explaining Egypt to the West". In November 2011, Egyptian riot police beat her, breaking her left arm and right hand, and sexually assaulted her and she was detained for 12 hours by the Interior Ministry and Military Intelligence.