Comics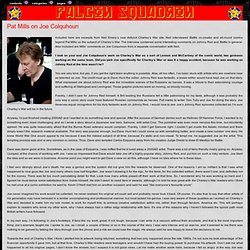 Pat Mills on Joe Colquhoun – Falcon Squadron
Included here are excerpts from Neil Emery's now defunct Charley's War site. Neil interviewed Battle co-creator and all-round comics legend Pat Mills on the subject of Charley's War. The interview contained some interesting comments on Johnny Red and Battle in general. Also included are Mills' comments on Joe Colquhoun from a separate conversation with Neil. I look on your and Joe Colquhoun's work on Charley's War as a sort of Lennon and McCartney of the comic world, two geniuses working on the same team.
The Official Alex Toth Website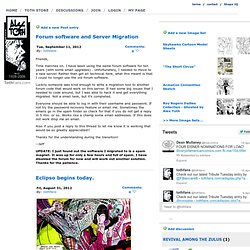 Add a new Post entry Forum software and Server Migration Friends, Time marches on. I have been using the same forum software for ten years (with some small upgrades) .
In 1960s Britain, even before the Bond Phenomenon was ignited by film adaptations of Ian Fleming's novels about a rakish secret government agent, a spy-fi woman was kicking ass in a daily news strip. She dealt in espionage, but never worked in an official capacity, preferring instead to handle matters on her own terms. This woman was the extraordinary Modesty Blaise.* At the same time the producers of the then-fledging British television series, The Avengers, recognized that the time was ripe for a female adventurer of complexity, independence and sexual sophistication – which we saw in Honor Blackman's Dr.
Ink-Stained Amazon » Women in Comics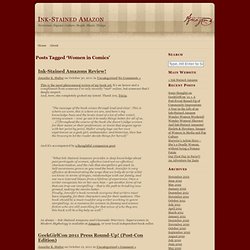 Mardi 8 avril 2014 2 08 /04 /Avr /2014 10:45 Bodart's Spirit tribute inked by French artist Benjamin Basso Mardi 8 avril 2014 2 08 /04 /Avr /2014 10:23 Mardi 8 avril 2014 2 08 /04 /Avr /2014 09:46 Three steps for this amazing tribute to Vance's Bob Morane...
Blog Denis Bodart / Denis Bodart's blog
Jake Parker
The Joe Kubert Interview | The Comics Journal
From TCJ #172 (November 1994) Promo photo provided by Joe Kubert Joe Kubert has led a charmed life. He started apprenticing in comics production "shops" in '38 at the age of 11; from then until now, his has been one of the most successful careers in comics. Starting with his tenure as artist of Hawkman in the late '40s, Kubert has been a major contributor to mainstream comics in every decade: The Viking Prince and Tor in the '50s, Enemy Ace and Sgt. Rock in the '60s, the Tarzan books in the '70s, and what seems like every other DC cover from the late '50s through the '80s.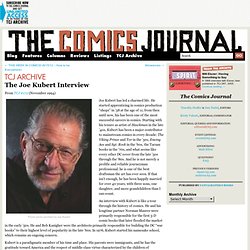 The Joe Kubert Interview | The Comics Journal
Category: Magazine Tag: Comics Posted on 2007-06-30. By anonymous. Description Hugo Pratt 1- Corto Maltese 22 albums JPG | French | 477 Mb
Hugo Pratt 1- Corto Maltese [French BDz]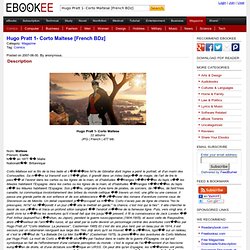 This week we have a brief strip relating the real-life challenges faced by the R.A.F. when the Zeppelin raids began during World War I. The artwork (although not the cover above) is by Jorge Luis Moliterni, better known in his native Argentina as a Western artist (Watami) and in the US as George Moliterni, who worked for DC Comics; in the UK his work was almost exclusively related to World War II subjects, ranging from issues of War and Battle picture libraries to episodes of Codename: Warlord in Warlord. Bizarrely, I always thought of Moliterni as an artist of adventure strips because I first saw his work in Top Secret Picture Library. Moliterni died young, although there seems to be some question about his age which unfortunately the internet doesn't resolve. My notes give his dates as d.1979 but I have also seen notes online which say he died in 1978; and, just to confuse matters even further, I've also seen his year of birth given as either 1933 or 1939.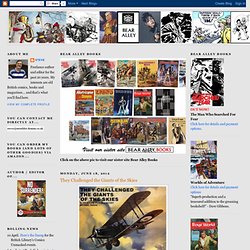 Bear Alley: They Challenged the Giants of the Skies
Bleaseworld: January 2011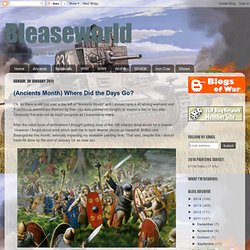 Unfortunately I didn't spend as much time painting this morning as planned as I was somewhat distracted by the news (or more correctly lack of) about US plastics producer Wargames Factory. It appears there is some sort of corporate takeover going on with what looks like is going to result in a train wreck. A takeover announcement has been made by one party which has been refuted to some extent by another. The worse thing is that some customers have paid money for product they still haven't received...
Jorge Luis Moliterni, History "Watami" Episode number 3 !!! Jorge Luis Moliterni began his career in advertisement, but started working in comics full time from 1957. His early work appeared in periodicals like Hora Cero and Frontera. He alternated with several other artists on Hugo Pratt's 'Ernie Pike' and 'Sargento Kirk' series. He drew the 'Watami' series with scripts by Hector German Oesterheld in Misterix from 1962. In the mid-1960s, Moliterni began working for international publishers and agencies, such as the British Fleetway and the American Charlton Comics (as George Moliterni).
Jorge Luis Moliterni Hector German Oesterheld: Jorge Luis Moliterni. "Watami"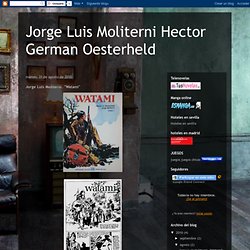 Lincoln | Les Editions Paquet
sgt rock
kirby pencils
Preview: Skullkickers #8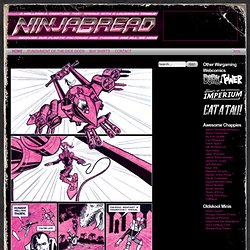 Ninjabread - Wargaming Comics and Scribblings
My flagstones have stopped abruptly. There's a swathe of missing archaeology across our trench - a rectangle of excavational woe. The stones of our fort simply stop, and there is only a smattering of small stones. What happened? Robber trench! Blokes with spades came to the field and took the dressed stone to build some tedious non-Roman buildings.
Making Comics by Scott McCloud
Making Comics Online Features Chapter Five and a Half. An online extension to Making Comics' Chapter on Tools, Techniques and Technology. NEW: Check out my YouTube How-To Videos on digital lettering techniques.
New Site- The Silmarillion Project January 20th, 2014 Happy New Year, everybody!
NYC 2123 – free PSP comic Filed Under Various, August 27,2007 Free PSP-optimized comic licensed under Creative Commons NYC2123 is a free black & white graphic novel optimized for the Play Station Portable. Beside this, you may also view the comic on a ordinary PC (or any machine that can handle JPEG – images ;)). There are 5 issues (partly multilingual) and every one is not only free to download or read – the whole comic is licensed under Creative Commons, which means you are also able to share and remix the work (under several conditions).
Free Online Comics @ free-comics.org » links to free online comic books and graphic novels (PDF, JPEG, Flash)
Eat More Bikes
cover edited
CORY LOFTIS INTERVIEW
4446 - Mystery in the Desert | Commando Comics
Hugo Pratt 2- Divers albums [French BDz]
DC Comics and Marvel Comics News
Paul Gravett | Article Detail
home
Paul Gravett | Things To Do
Derik Badman » Best Comics of 2008
Action :: Comics - Action1-1
www.comix.co.za
Captain America
Toby Shelton: stuff i did