Serge SOUDOPLATOFF
Le monde avec internet - 2012. Serge Soudoplatoff. Serge Soudoplatoff (born 1954) is a French technologist, commentator and author, noted for his ability to explain technology trends to industry, government and corporations.[1] Born in 1954, Soudoplatoff graduated from France's L'Ecole Polytechnique and, in his early career, worked as a cartographer, specializing in satellite positioning systems (Landsat and Navstar) and with IBM where he conducted research into pattern recognition.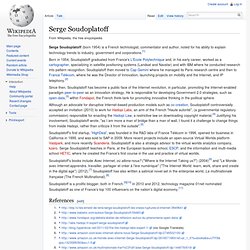 Soudoplatoff then moved to Cap Gemini where he managed its Paris research centre and then to France Télécom, where he was the Director of Innovation, launching projects on mobility and the Internet, and IP telephony.[2] Since then, Soudoplatoff has become a public face of the Internet revolution, in particular, promoting the Internet-enabled paradigm peer-to-peer as an innovation strategy.
Serge Soudoplatoff: ||"Internet, c'est assez rigolo" Dans une longue interview, Serge Soudoplatoff refait avec nous l'histoire de l'Internet.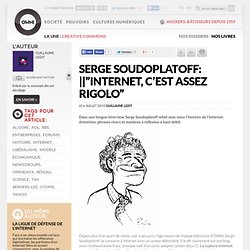 Attention, phrases chocs et matières à réflexion à haut débit. Depuis plus d'un quart de siècle, soit à peu près l'âge moyen de l'équipe éditoriale d'OWNI, Serge Soudoplatoff se consacre à Internet avec un amour débordant. Il le dit clairement sur son blog, avec l'enthousiasme franc, presque naïf, d'un early-adopter jamais déçu (?) La rupture Internet. Serge Soudoplatoff.
---