Innovative Art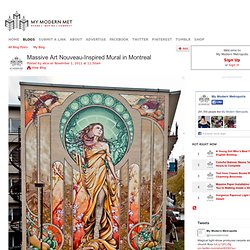 For 16 days straight, from dawn to dusk, five highly determined Montreal-based artists (who make up the artist run collective A'shop) worked on a graffiti mural of a Mother Nature-esque Madonna or a modern-day version of "Our Lady of Grace." Inspired by Czech Art Nouveau painter Alphonse Mucha, the crew created this breathtakingly beautiful five story mural using 500 cans of spray paint in over 50 different colors. "We been doing graffiti for a long time but this is our first large project involving the whole team," Fluke of A'shop told The Montreal Gazette. "We're always busy with other projects so we've never really had time to let [the reactions to] them sink in. But this mural was just so big and also our last of the season.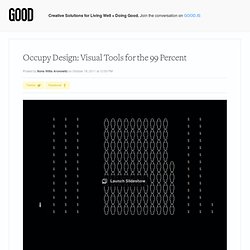 Launch Slideshow Last weekend, San Francisco, New York, and Washington, D.C. hosted spontaneous "Hackathons" to brainstorm how to use various platforms to help Occupy Wall Street. One of the ideas hatched was Occupy Design, a new website that gives a "visual language" to protesters across the country. Jake Levitas, a designer from San Francisco who's heading up the project, says it's a chance to fight back at media who characterize the movement as directionless. "These are people who have valid concerns grounded in reality and grounded in data that can be communicated visually," Levitas says. "If we get these signs on CNN instead of the ones that say 'Screw capitalism' on a piece of cardboard," viewers don't see a generic grievance but "exactly how people are being screwed and by how much.
24 Amazing Photoshop Tutorials | Tutorials | PelFusion Design Magazine
Alfred Hitchcock stencil graffiti | Flickr : partage de photos !
Retro 'Finding Nemo' poster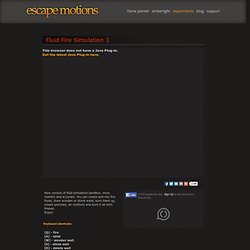 New version of fluid simulation sandbox, more realistic and accurate. You can create and mix fire fluids, draw wooden or stone walls, burn them up, create particles, air emitters and burn it all with fireball. Enjoy! Keyboard shortcuts:
Fashion Inspiration: Circular Beauty
Looking at the artwork of a friend of mine, I started thinking about how his work related to the fashion and style around us. Clint Colburn is a Lexington based artist known for using circles of all sizes to create a larger harmony within a larger picture. This works the same within the fashion realm. Each component works in harmony with the other components, resulting in a larger piece or product. There is a beauty and a science to it, all at the same time. The following is an example of Clint's work: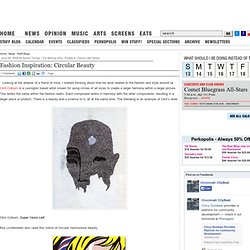 unicornology - stirringofbirds: iwantmybearsuit: ...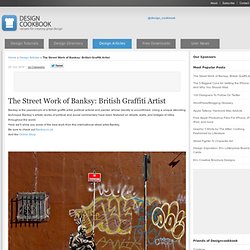 Banksy is the pseudonym of a British graffiti artist, political activist and painter, whose identity is unconfirmed. Using a unique stenciling technique Banksy's artistic works of political and social commentary have been featured on streets, walls, and bridges of cities throughout the world. Here we'll show you some of the best work from this international street artist Banksy. Be sure to check out Banksy.co.uk And the Online Shop Banksy.co.ukOnline Shop
The Official Star Wars Blog » Chipmunk Trooper Whisperer
micahgoularts Journal: If Fire Were Water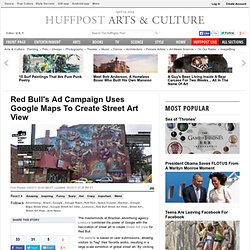 The masterminds at Brazilian advertising agency Loducca combined the power of Google with the fascination of street art to create Street Art View for Red Bull. The website is based on user submissions, allowing visitors to "tag" their favorite works, resulting in a large scale exhibition of global street art. By clicking through the thousands of submissions, visitors can see works from unknowns to famous street artists including Banksy, Keith Haring, Os Gêmeos and Space Invader. While it is interesting to play virtual street art tourist, some critics have questioned the use of (frequently anti-commercial) street art in order to sell the caffeinated beverage.
Red Bull's Ad Campaign Uses Google Maps To Create Street Art View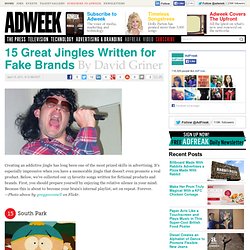 Creating an addictive jingle has long been one of the most prized skills in advertising. It's especially impressive when you have a memorable jingle that doesn't even promote a real product. Below, we've collected our 15 favorite songs written for fictional products and brands. First, you should prepare yourself by enjoying the relative silence in your mind. Because this is about to become your brain's internal playlist, set on repeat.
AdFreak: 15 Great Jingles Written for Fake Brands
18 strange and unusual usb flash drives & Blog of Francesco Mugnai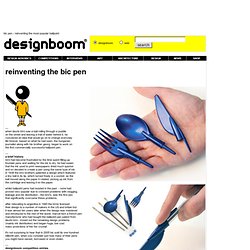 © copyrights designboom, all rights reserved. all material published remains the exclusive copyright of designboom. no contents, including text, photographs, videos, etc. may be reproduced in whole or in part without the written consent of designboom. in addition, no material or contents may be reproduced on the world wide web by techniques of mirroring, framing, posting, etc. without the written consent of designboom.
carnovsky02