Videos und TV sites
The man with no head
ourstory.filmbinder.com
Video & Audio | Working with Oneness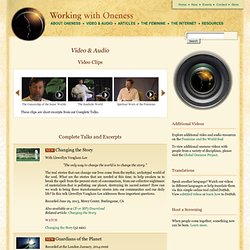 With Llewellyn Vaughan-Lee "The only way to change the world is to change the story." The real stories that can change our lives come from the mythic, archetypal world of the soul. What are the stories that are needed at this time, to help awaken us to break the spell from the present story of consumerism, from our collective nightmare of materialism that is polluting our planet, destroying its sacred nature? How can we work to bring these transformative stories into our communities and our daily life? In this talk Llewellyn Vaughan-Lee addresses these important questions.
Conscious TV - Homepage
Welcome to conscious.tv We are a UK based TV channel broadcasting here on the Internet at www.conscious.tv. We also have programmes broadcast on satellite and cable channels in different countries. In the UK you can watch our programmes at 5pm every day on Information TV's 'Showcase 2' channel which is no 203 on the Sky Satellite system.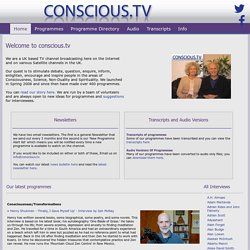 Jetzt-TV: Home
What is Advaita Vedanta? Introduction: The fundamental knowledge is Atman is Brahman. The Atman being the "Self" and Brahman means the "All Soul" or the Universal Consciousness.