Social Media Management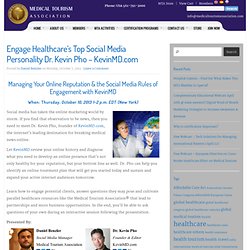 Engage Healthcare's Top Social Media Personality Dr Kevin Pho - KevinMD.com | Medical Tourism Association Blog
Posted by Daniel Benzler on Monday, October 7, 2013 · Leave a Comment When: Thursday, October 10, 2013 1-2 p.m.
10 of the Best Recent Social Media Tutorials on the Web
Credit: BigStockPhoto.com Let me preface this list by saying that I generally dislike "best" lists. I don't care for people attempting to rank the best of the best of anything online. It's not just based on a collection of faulty metrics or completely subjective (which people often don't admit), but it's ignorant at best. After all, no one is familiar with everything available, so how can they attempt to identify the best? It usually turns into this back-patting, ass-kissing kind of thing.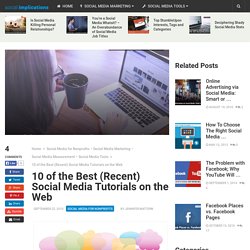 Army Social Media Standard Operating Procedure (Standardization)
Online Database of Government and Non-Profit Social Media Policies
Networks - LinksAlpha.com
Social Media Toolkit - Social Media Toolkit
At Vanderbilt University Medical Center, we not only recognize that social media are here to stay, we believe it is critical for us as an organization to be active and stay abreast of trends in social media. VUMC was one of the first medical centers in the country to develop a social media policy to guide use of social media by its faculty, staff and students. Helping you participate in social media without getting yourself or Vanderbilt into trouble is the goal of this policy as well as the tools and resources on these pages. You likely have a profile in one or more social networks.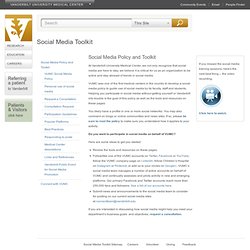 Search results
Crisis management – standard operating procedures « Dachis Group Collaboratory
I flew on Southwest Airlines earlier this week, three days after the company faced – and averted – a major crisis. ( This WSJ article contains an excellent synopsis of what transpired.) In contrast, the airline faced a crisis of a very different sort two months earlier, when a movie director with over a million Twitter followers complained about being poorly treated . In the corporate communications function, crisis management comes with the territory. But with the rise of social media, the communications landscape has changed, introducing new players and parameters into situations. Social media ownership has been unevenly distributed in many companies, which has created havoc in situations where the first responders are often the least prepared. Advertising professionals accustomed to one-way communication.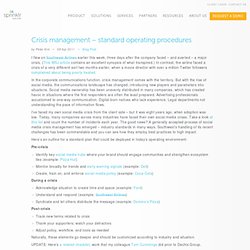 Social Standard Operating Procedures: The Art Of Engagement
What makes Social Standard Operating Procedures ( SSOP ) different is more the how-to aspect of the position. What is the baseline of responsibility of the position. This also sets valuable performance indicators for your HR staff to measure the talent of a given employee.
We recognize the vital importance of participating in these online conversations and are committed to ensuring that we participate in online social media the right way. These Online Social Media Principles have been developed to help empower our associates to participate in this new frontier of marketing and communications, represent our Company, and share the optimistic and positive spirits of our brands. The vision of the Company to achieve sustainable growth online and offline is guided by certain shared values that we live by as an organization and as individuals: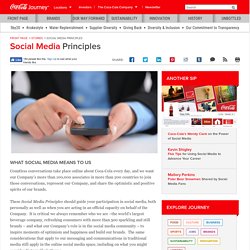 Online Social Media Principles
social media policy
Top 10 Ways to Unleash the Power of SlideShare | Seamless Social
Armed forces personnel (most recent) by country