Social Media Management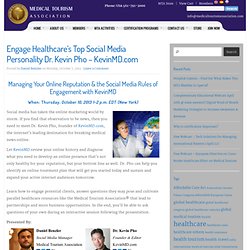 Engage Healthcare's Top Social Media Personality Dr Kevin Pho - KevinMD.com | Medical Tourism Association Blog
Posted by Daniel Benzler on Monday, October 7, 2013 · Leave a Comment When: Thursday, October 10, 2013 1-2 p.m.
10 of the Best Recent Social Media Tutorials on the Web
Credit: BigStockPhoto.com Let me preface this list by saying that I generally dislike "best" lists. I don't care for people attempting to rank the best of the best of anything online. It's not just based on a collection of faulty metrics or completely subjective (which people often don't admit), but it's ignorant at best. After all, no one is familiar with everything available, so how can they attempt to identify the best? It usually turns into this back-patting, ass-kissing kind of thing.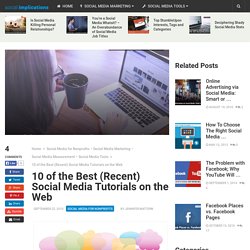 Army Social Media Standard Operating Procedure (Standardization)
Online Database of Government and Non-Profit Social Media Policies
Networks - LinksAlpha.com
Social Media Toolkit - Social Media Toolkit
At Vanderbilt University Medical Center, we not only recognize that social media are here to stay, we believe it is critical for us as an organization to be active and stay abreast of trends in social media. VUMC was one of the first medical centers in the country to develop a social media policy to guide use of social media by its faculty, staff and students. Helping you participate in social media without getting yourself or Vanderbilt into trouble is the goal of this policy as well as the tools and resources on these pages. You likely have a profile in one or more social networks.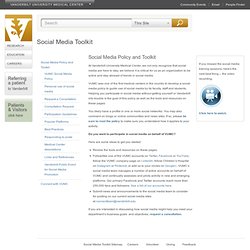 Search results
Crisis management – standard operating procedures « Dachis Group Collaboratory
Subscribe to get 10 free content ideas daily I flew on Southwest Airlines earlier this week, three days after the company faced – and averted – a major crisis. (This WSJ article contains an excellent synopsis of what transpired.)
Social Standard Operating Procedures: The Art Of Engagement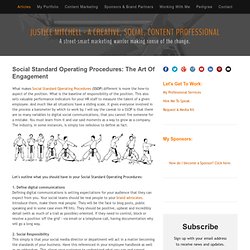 What makes Social Standard Operating Procedures (SSOP) different is more the how-to aspect of the position. What is the baseline of responsibility of the position.
Countless conversations take place online about every day, and we want our Company's more than 150,000 associates in more than 200 countries to join those conversations, represent our Company, and share the optimistic and positive spirits of our brands. These Social Media Principles should guide your participation in social media, both personally as well as when you are acting in an official capacity on behalf of the Company. It is critical we always remember who we are –the world's largest beverage company, refreshing consumers with more than 500 sparkling and still brands – and what our Company's role is in the social media community – to inspire moments of optimism and happiness and build our brands.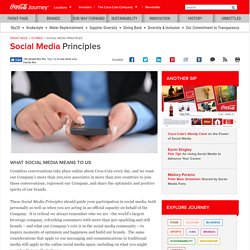 Online Social Media Principles
social media policy
Armed forces personnel (most recent) by country