Semanticweb
Electroniccommerce
Socialmedia. Drupal. The future of search, Part 2: Semantic search « Hypios – Thinki. Web Integrated Data. Microformats: What, Why, and How - Nettuts+ There's a lot of data on the web.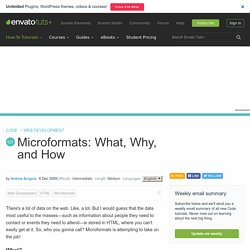 Like, a lot. But I would guess that the data most useful to the masses—such as information about people they need to contact or events they need to attend—is stored in HTML, where you can't easily get at it. So, who you gonna call? Microformats is attempting to take on the job! What?
RELATIONSHIP: A vocabulary for describing relationships between. Creators Eric Vitiello Jr A vocabulary for describing relationships between people Please direct feedback on this document to the FOAF-DEV mailing list History.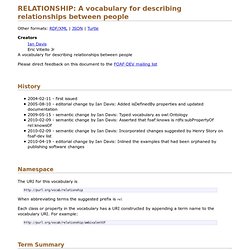 ViewChange Technology. Home | Login/Register RSS / Podcasts Home > About Link TV > ViewChange > ViewChange Technology Using the Semantic Web to Fuel Social Change.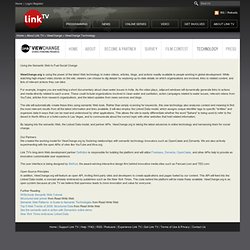 Web 3.0: donner du sens aux données (vidéo) » Article » owni.fr, Après le web de contenu, l'émergence des moteurs de recherche et l'apparition du web social, une brillante vidéo qui résume les principes et les enjeux du web 3.0, le web sémantique.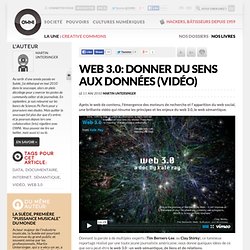 Donnant la parole à de multiples experts (Tim Berners-Lee, ou Clay Shirky), ce lumineux reportage réalisé par une toute jeune journaliste américaine, nous donne quelques idées de ce que sera peut-être le web 3.0 : un web sémantique, de liens et de relations. Pour les non-anglophones, voici les éléments principaux. Un web submergé par un contenu auquel il est difficile de donner sens.
---