Dataset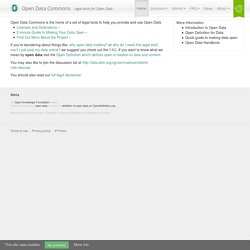 Open Data Commons is the home of a set of legal tools to help you provide and use Open Data If you're wondering about things like: why open data matters? or why do I need this legal stuff, can't I just post my data online?
Lâcher de données pour l'OpenDataCamp ! « RegardsCitoyens.org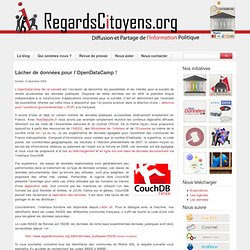 L'OpenDataCamp de ce samedi est l'occasion de démontrer les possibilités et les intérêts pour la société de rendre accessibles les données publiques. Disposer de telles données est en effet la première brique indispensable à la construction d'applications innovantes pour la société. C'est en démontrant par l'exemple les possibilités offertes par cette mise à disposition que l'on pourra avancer dans la direction d'une « directive pour l'ouverture gouvernementale » (PDF) à la française. Il existe d'ores et déjà un certain nombre de données publiques accessibles relativement simplement en France.