TYPO
Born Typeface | Born is a mediterranean typeface open to new times | Carlos de Toro | Diseño gráfico y tipografía | Barcelona & Logroño. Born Tipografía – Página en Castellano (click aquí) Its story Born is much more than a typeface, it's also a story; The one of my 2013.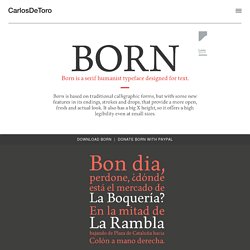 A story about moving to the big city, the result of meet great people from all parts of the world and their cultures too, the result of talks in classes, bars and trains… the result of sharing moments, experiences, knowledges… Born is the result of all these experiences and people: and now I'm sharing with you this piece of my story. Born Born is a humanistic typeface that is based on traditional calligraphic forms, but with some new features in its endings, strokes and drops, that provide a more open, fresh and actual look. Fontello - easy iconic fonts composer. Fonts2u.com.
Outils. WhatTheFont! 25 Websites for Typography Inspiration. Le petit journal permanent de la TypOgrApHiE ! Inspiring Typography Artwork - Noupe Design Blog. Beautiful Type. Designosaur - font witch attracts attention. We proudly present to you «Designosaur».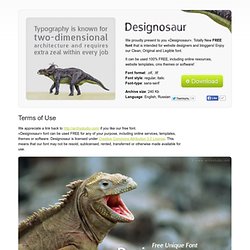 Totally New FREE font that is intended for website designers and bloggers! Enjoy our Clean, Original and Legible font.
---