Photographie
Sure, we've seen our share of weird accessories that may come across as odd or absurd, but what about the cleverly-designed items inspired by cameras? Some shutterbugs would go to great lengths to acquire camera-inspired items to remind them of their beloved snappers. They may come in the form of cufflinks to match an outfit or a pencil sharpener resembling a vintage twin-lens reflex camera.
Camera-inspired items [update] - Cameras
Imaginez : vous avez acquis un magnifique appareil photo coûteux. Vous en profitez pour aller prendre de somptueux clichés en vous baladant en ville, vous détournez les yeux une seconde de votre sacoche de photographe et vous vous apercevez avec horreur qu'elle a disparu, avec tout votre matériel photo ! Que faire dans un tel cas de figure ? Porter plainte auprès du commissariat le plus proche ? La police serait malheureusement bien incapable de retrouver votre appareil malgré toute sa bonne volonté…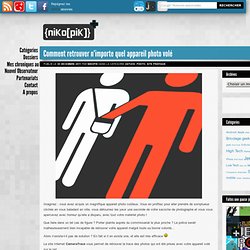 Comment retrouver n'importe quel appareil photo volé
Triptychs of Strangers: Details of Subjects Captured in Three Frames
Admirateurs de montages photo et de retouche d'images en ligne, réjouissez-vous, AnyMaking devrait faire votre bonheur. Ce site permet en effet de se livrer à des retouches simples (recadrer une image, arrondir les angles, ajouter un cadre, faire pivoter…) mais aussi d'appliquer des filtres pour faire des photomontages basiques. AnyMaking est très facile à utiliser, et permet d'enregistrer ses images une fois son oeuvre achevée, ce qui n'est pas le cas de tous les sites de montage photo en ligne. Pour appliquer des filtres à vos photos et réaliser de petits photomontages, rendez-vous sur l'onglet « Fun photo effects ». Les 5 filtres précédés de la lettre « P » orange nécessitent de créer un compte en version payante, mais les autres sont tous gratuits.
Montage photo : AnyMaking, retouche d'images en ligne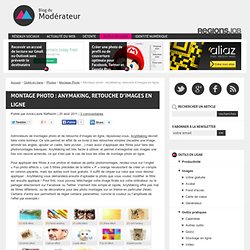 28 Impressive Tree Pictures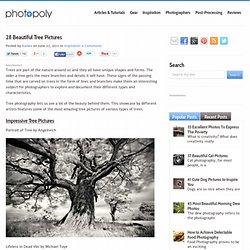 Advertisement Trees are part of the nature around us and they all have unique shapes and forms. The older a tree gets the more branches and details it will have.
Reporters Sans Frontières
Bienvenue sur Flickr  !
Forum sur les LUMIX de Panasonic (FZ/TZ/FX/LX/G) - Portail
National Geographic
Best photos on the web
Borealis - La Laponie Suédoise en traineau
Un eBook sur la photographie de paysage à téléchager gratuitement