Jeux
Retrogaming fr - Google+
Et voilà!!! Cette fameuse annonce finit enfin par tomber et la force et la persévérance ont fini par payer pour toute l'équipe de Witty Editions !!! La barre des 5000 unités vendues de ICE3 est donc désormais franchie et c'est le plus merveilleux cadeau de Noël que nous pouvions avoir et vous offrir pour ce Noël 2013!! Il a fallu travailler dur.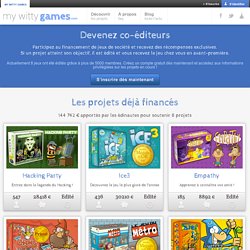 Correlatweet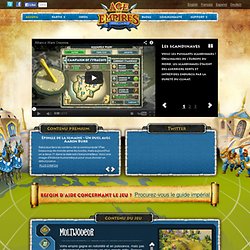 Accueil | Age of Empires Online
Description: An unhandled exception occurred during the execution of the current web request. Please review the stack trace for more information about the error and where it originated in the code. Exception Details: System.ServiceModel.FaultException: The message could not be processed. This is most likely because the action 'http://tempuri.org/IPublishingService/TryGetContentItem' is incorrect or because the message contains an invalid or expired security context token or because there is a mismatch between bindings. The security context token would be invalid if the service aborted the channel due to inactivity. To prevent the service from aborting idle sessions prematurely increase the Receive timeout on the service endpoint's binding.
Yes We Lan, les meilleurs jeux de mots geeks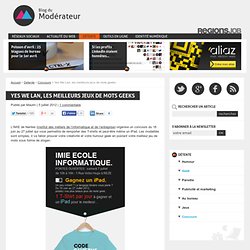 L'IMIE de Nantes (Institut des métiers de l'informatique et de l'entreprise) organise un concours du 18 juin au 27 juillet qui vous permettra de remporter des T-shirts et peut-être même un iPad. Les modalités sont simples, il va falloir prouver votre créativité et votre humour geek en postant votre meilleur jeu de mots sous forme de slogan. Le concours est commencé depuis quelques semaines et on peut trouver déjà quelques jolies perles, petit florilège :