Iphone/ipad
Ipad
Write Web Pages for the iPhone - Tips to Design Web Pages that Work on Small Screen Mobile Devices. Chances are you've seen how the iPhone can flip and expand web pages.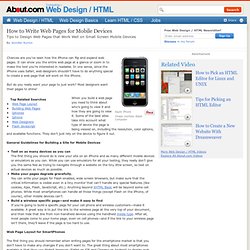 It can show you the entire web page at a glance or zoom in to make the text you're interested in readable. In one sense, since the iPhone uses Safari, web designers shouldn't have to do anything special to create a web page that will work on the iPhone. But do you really want your page to just work? L'iPhone a aussi révolutionné le monde de la photo.
iPhone Development: 12 Tips To Get You Started. 4: Orientation Changes Your pages and apps can be viewed in two orientation modes: portrait and landscape.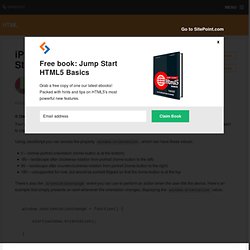 It could be useful for your app to react to changes in the orientation. Apple Developer. Adobe propose la conversion Flash vers HTML avec Wallaby. La décision prise par Apple de ne pas supporter le format Flash sur ses iPhone et iPad contraint Adobe à évoluer et à proposer des outils adaptés pour les designers qui souhaitent que leurs animations soient visibles sur les téléphones et tablettes tactiles les plus populaires du moment.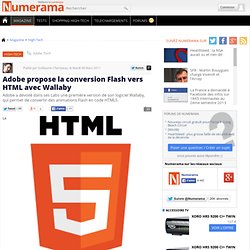 L'éditeur a donc travaillé sur un logiciel qui permet aux créatifs de continuer à travailler sur Adobe Flash pour la conception de leurs applications et animations, mais avec une exportation en code HTML5 lisible par tous les navigateurs modernes. Adobe a ainsi sorti lundi une première version expérimentale de son logiciel Wallaby, destinée aux développeurs, qui convertit les fichiers .FLA en code HTML.
Toutes les fonctions du format Flash ne sont pas encore supportées, mais ça n'est sans doute qu'une question de temps. The MobileESP Project - Détectez les smartphones sur vos sites web. The MobileESP Project est un ensemble de scripts client et serveur permettant de détecter les smartphones qui se connectent à votre site web.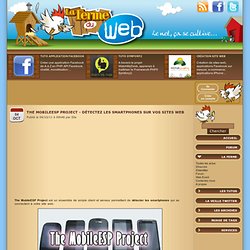 Détecter un smartphone sur votre site peut être très pratique: Pour changer le style du site avec une versipon mobile, pour le rediriger sur votre application mobile, pour lui proposer de télécharger votre application dédiée ... The MobileESP propose des scripts pour détecter ces smartphones: Côté serveur: en PHP, Java ou ASP.NETCôté client: en javascript Ces scripts permettront de détecter précisemment quel type de smartphone, tablette ou d'écran il s'agit.
---