Oil and the Economy
Home - Mozilla Firefox
Research from Jim Hamilton and Lutz Kilian is, to my mind the most complete and accurate about the economic consequences of oil disruption. Productivity growth is dramatically linked to energy, which is 80% fossile. There is no growth possible without carbon , mainly oil and gas... by benobi Mar 1
Reserach from J-M Jancovici is enlightening links between energy, economic productivity growth and climate change... For a mainstream economist, reading this research is a true shock and reveals that we missed something : there is capital (human an physical), labour , but we never looked at productivity in resources .. by benobi Mar 1
There is a frigthening caveat : we do not pay the marginal cost of plundering natural resources... Economic growth may be biased and its medium term consequence very worrying. If you are cold-blooded to face an unconvenient message...this must be read. by benobi Mar 1
Newsweek and "Cheap oil forever" | Energy Bulletin - Mozilla Fir
Newsweek's cover declares that we shall have "Cheap Oil Forever". Furthermore, on their hompage, www.newsweek.com they promise that we shall be told "The truth about oil" and the person who will tell us is Ruchir Sharma, Head of Emerging Markets at Morgan Stanley Investment Management. Of course, I want to know who this oracle is and, with the help of Google, I discover Ruchr Sharma as a smiling young man in the prime of his life. With great interest I examine the article "If It's in the Ground, It Can Only Go Down", the article that will show me the truth that my research group strives daily to find, that truth that the entire world seeks.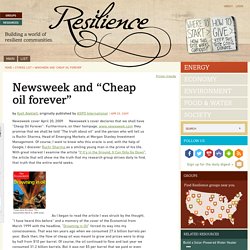 « Causes of the Oil Shock of 2007-08 | Main | GDP Snapshot: First Read on 2009Q1 » April 02, 2009
Consequences of the Oil Shock of 2007-08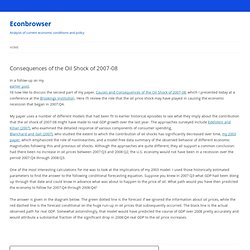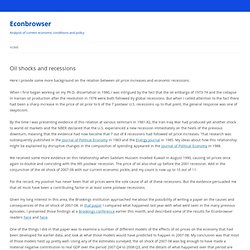 Oil shocks and recessions - Mozilla Firefox
« Two Books | Main | The Decline in US Imports »
At the end of 2007, both gasoline and crude oil prices (adjusted for inflation) were at levels last seen in 1981 and they continued to climb throughout much of 2008.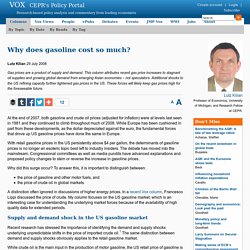 Why gasoline prices rose so much in the US | vox - Research-base
Supply or Demand driven oil shocks do not lead to the same consequences. The key issue : is the oil shock caused by fears of disruption or rising demand...The first case is likely to trigger a recession... We are waiting the answers from Killian for the 2008 shocks... Have any clue ? by benobi Mar 1
The oil shock and recession of 2008: Part 1 - Mozil
« Aggregate Demand and Finance and the Collapse in Trade | Main | "Trade finance is collapsing" »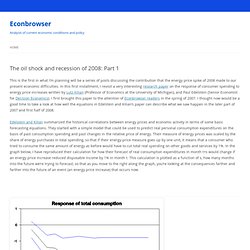 Oil is to blame according to Jim Hamilton . I tend to agree with him.. Look forward to hearing the conclusions from Lutz Kilian. by benobi Mar 1
« "Trade finance is collapsing" | Main | Forecasted GDP in the New Year » January 02, 2009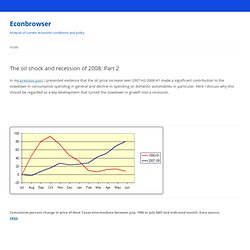 The oil shock and recession of 2008: Part 2
IEA says oil capacity crunch looms - Upstreamonline - Mozilla Fi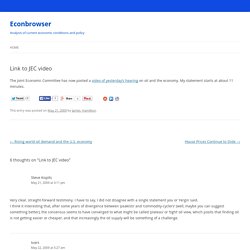 « Rising world oil demand and the U.S. economy | Main | House Prices Continue to Slide »
Link to JEC video - Mozilla Firefox