Themes WP
Business WordPress Themes - BizzThemes. Themes « Templates NeXt - WP Themes, Joomla Themes, Plugins, Modules. This is a long pending post, should have posted long back.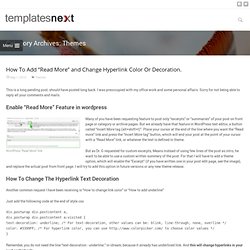 I was preoccupied with my office work and some personal affairs. Sorry for not being able to reply all your comments and mails. Enable "Read More" Feature in wordpress WordPress "Read More" link. Wpshower - Free & Premium Wordpress Themes. WP Themes Pro - Trouvez le thème Wordpress idéal ! 20 Free HTML5 WordPress Themes and Theme Frameworks. If you need a WordPress theme that uses the modern technologies of HTML5 and CSS3 then you've come to the right place, in today's post I am listing the best free complete themes and blank themes / theme frameworks that you can use as a base to build you own.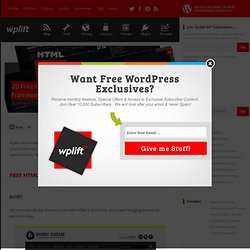 Busby My very own Busby theme is built with HTML5 and CSS3, it's a clean blogging theme for personal sites. Premium WordPress Themes | Free WP Themes | WP Madness.
WP E commerce
DeCondo Theme Demo. DynamiX - Premium Wordpress Theme. DynamiX is one of the most powerful responsive business Wordpress themes around today.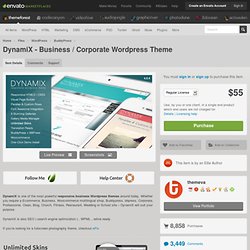 Whether you require a Ecommerce, Business, Woocommerce multilingual shop, Buddypress, bbpress, Corporate, Professional, Clean, Blog, Church, Fitness, Restaurant, Wedding or School site – DynamiX will suit your purpose. DynamiX is also SEO ( search engine optimization ) , WPML , retina ready. Template Wordpress et Thèmes inspirants. La console de gestion de Wordpress est extrêmement versatile et flexible.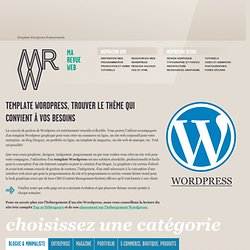 Vous pouvez l'utiliser accompagnée d'un template Wordpress graphique pour vous créer un commerce en ligne, un site web corporatif pour votre entreprise, un blog (blogue), un portfolio en ligne, un template de magazine, un site web de musique, etc. Tout est possible! Que vous soyez graphiste, designer, intégrateur, programmeur ou que vous vouliez vous créer un site web pour votre compagnie, l'utilisation d'un template Wordpress est une solution abordable, professionnelle et facile pour la conception d'un site Internet complet ou pour la création d'un blogue.
Le graphiste s'en servira d'abord et avant tout comme console de gestion de contenu, l'intégrateur, d'un outil nécessaire à la conception d'une interface web ainsi que pour la programmation du site et le programmeur se servira comme thème visuel pour le look graphique ainsi que de base CMS (Content Management System) efficace qu'il veut fournir à son client.
(niss.fr) - Des Thèmes pour WordPress en Français. Free Wordpress Template - Theme gratuit Wordpress. Themes-css.com : galerie xhtml/css, wordpress, joomla et CMS. Thèmes wordpress. Templates. Wordpress_themes.
---