Spiritual-FindYou
Alchemy | An open drawing project. Chaos & Evolutions Open Movie Workshop: 03 Alchemy. OBE (also Out of Body Experience) Main Index. Near death experience. Characteristics[edit] Researchers have identified the common elements that define near-death experiences.[24] Bruce Greyson argues that the general features of the experience include impressions of being outside one's physical body, visions of deceased relatives and religious figures, and transcendence of egotic and spatiotemporal boundaries.[25] Many different elements have been reported, though the exact elements tend to correspond with the cultural, philosophical, or religious beliefs of the person experiencing it: The traits of a classic NDE are as follows: The notice of unpleasant sound or noise (claimed by R.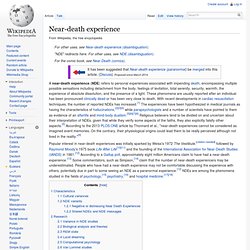 Greatest discovery. Guided by higher intelligence Jose Silva is more than a great American success story... his life is a Universal Success Story.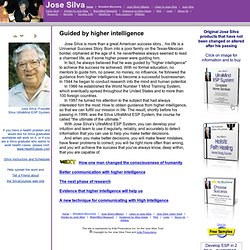 Born into a poor family on the Texas-Mexican border, orphaned at the age of 4, he nevertheless always seemed to lead a charmed life, as if some higher power were guiding him. In fact, he always believed that he was guided by "higher intelligence" to achieve the success he achieved. With no formal education, no mentors to guide him, no power, no money, no influence, he followed the guidance from higher intelligence to become a successful businessman. Astral projection. Astral projection (or astral travel) is an interpretation of out-of-body experience (OBE) that assumes the existence of an "astral body" separate from the physical body and capable of travelling outside it.[1] Astral projection or travel denotes the astral body leaving the physical body to travel in an astral plane.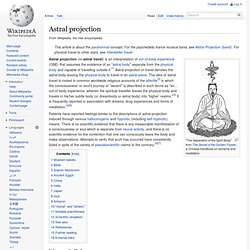 The idea of astral travel is rooted in common worldwide religious accounts of the afterlife[2] in which the consciousness' or soul's journey or "ascent" is described in such terms as "an... out-of body experience, wherein the spiritual traveller leaves the physical body and travels in his/her subtle body (or dreambody or astral body) into 'higher' realms.
"[3] It is frequently reported in association with dreams, drug experiences and forms of meditation.[4][5] Patients have reported feelings similar to the descriptions of astral projection induced through various hallucinogenic and hypnotic (including self-hypnotic) means. Traits_new_children. Indigo, Crystal & Rainbow children characteristics Indigo Children: Individuals who are here to bring about the New Age of Peace.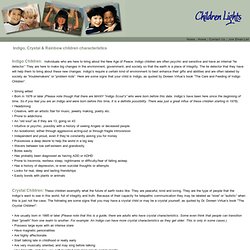 Indigo children are often psychic and sensitive and have an internal "lie detector." They are here to make big changes in the environment, government, and society so that the earth is a place of integrity. The lie detector that they have will help them to bring about these new changes. Indigo's require a certain kind of environment to best enhance their gifts and abilities and are often labeled by society as "troublemakers" or "problem kids". Do you see it now - Everything Random - StumbleUpon.
Mr. Self Development.com. Psychophysiology of Lucid Dreaming. By Stephen LaBerge, Ph.D.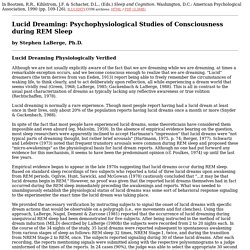 Lucid Dreaming Physiologically Verified Although we are not usually explicitly aware of the fact that we are dreaming while we are dreaming, at times a remarkable exception occurs, and we become conscious enough to realize that we are dreaming. "Lucid" dreamers (the term derives from van Eeden, 1913) report being able to freely remember the circumstances of waking life, to think clearly, and to act deliberately upon reflection, all while experiencing a dream world that seems vividly real (Green, 1968; LaBerge, 1985; Gackenbach & LaBerge, 1988). This is all in contrast to the usual past characterization of dreams as typically lacking any reflective awareness or true volition (Rechtschaffen, 1978). Characteristics of a Self-Actualizing Person.
April 11, 2014 By Dr.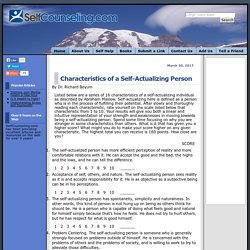 Richard Boyum.
---