Réseaux sociaux
Gestion des réseaux sociaux
Organized Crime: The World's Largest Social Network | Magazine 
Well, what a year it's been in social commerce. A year ago, the future was set to be social commerce. Today, the future's already here, it's just unevenly distributed – in true Gibsonian fashion.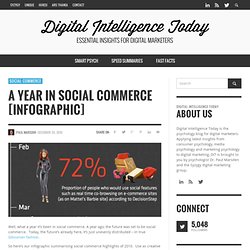 A Year in Social Commerce [infographic
NEW YORK, N.Y. - January 18, 2011 - Social media has opened the door, or more accurately, many doors, to increasingly numerous ways for people to interact with others, customize their online experiences and receive positive, enriching benefits from their activity therein. In fact, two in five Americans say that they have received a good suggestion for something to try as a result of their use of social media (40%), 15% say they have made a connection regarding a job opportunity, and one in ten say they have found a new apartment or house through their social media use (9%). These are some of the results of The Harris Poll of 2,331 adults surveyed online between December 6 and 13, 2010 by Harris Interactive. While a majority of U.S. adults are using social media (65%), and a similar number say they have received a positive benefit from its use, adoption is not consistent across the board.
The Pros, Cons and Learning Curve of Social Media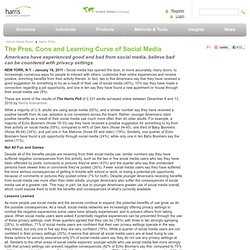 LEAKED: Twitter's Confidential Pitch To Advertisers
Histoires de réseaux sociaux
Maîtriser les informations publiées sur les réseaux sociaux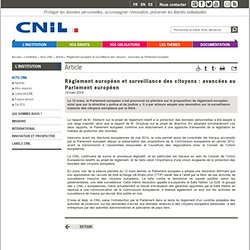 Chiffres clés Environ 2,5 millions de personnes enregistrées À quoi sert ce fichier ? Le FICP a pour but de prévenir et de traiter les situations de surendettement. Les banques et établissements de crédit doivent obligatoirement le consulter avant : l'octroi d'un crédit ; l'octroi d'une autorisation de découvert remboursable dans un délai supérieur à un mois ; la reconduction annuelle d'un contrat de crédit renouvelable.
December 2013: a new edition of my World Map of Social Networks, showing the most popular social networking sites by country, according to Alexa traffic data (caveat: it's hard to understand the impact of Google+ because it is part of Google domain traffic). A few differences since last June but a lot since June 2009. Zuck's baby is the dominant social network in in 127 out of 137 countries analyzed: in the latest months Facebook lost Kyrgyzstan, but stole Syria from Maktoob. Facebook has now 1,189 billion monthly active users, but it is growing less rapidly than before (it has added just 34 million active users in 6 months). 351 million users in Asia, 276 million in Europe, 199 million in US & Canada, 362 million in remaining countries (according to Q3 2013 Earnings)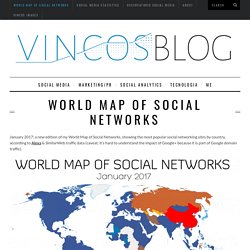 Avis d'expert : Réseaux sociaux : engagez-vous qu'ils disaient ! par Benjamin Rosoor – Tribune e-Business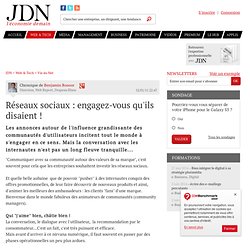 Les annonces autour de l'influence grandissante des communautés d'utilisateurs incitent tout le monde à s'engager en ce sens. Mais la conversation avec les internautes n'est pas un long fleuve tranquille... "Communiquer avec sa communauté autour des valeurs de sa marque", c'est souvent pour cela que les entreprises souhaitent investir les réseaux sociaux.
Réputation des entreprises et réseaux sociaux
TNS Sofres a analysé l'impact des réseaux sociaux sur la réputation des entreprises du CAC 40 à l'occasion du Top Com Corporate organisé du 7 au 9 février 2011, autour du thème de l'e-réputation (Marketing-Professionnel.fr vous en parle, mais n'a pas été invité Principaux enseignements. Un profond changement de la relation à l'entreprise Impact des réseaux sociaux sur la réputation des entreprises du CAC 40