Spectacle
REDITEC - SITE OFFICIEL
Taux intermittent, site de calcul d'allocations des intermittents du spectacle
intermittents — Portail officiel de l'Afdas
Suivre des stages de perfectionnement, se reconvertir, se qualifier, via des actions de formation plus longues, faire le point sur ses compétences, valider ses acquis professionnels... L'Afdas offre aux intermittents, artistes et techniciens du spectacle, des services de recherche de formation, et assure le financement des actions. Trouver un stage Avant de choisir un stage, prenez connaissance des modalités de financement dans la rubrique "informations techniques".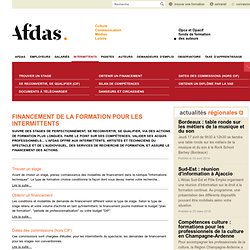 Bruce Munro - Field of Light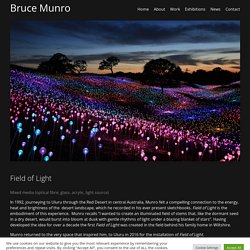 The field of light In late October 2008, Bruce Munro and a team of 5 installed the Field of Light on the grassy roof of the visitor's centre, called the Link Building, at the Eden Project in Cornwall. They worked over three days to install this version of FoL, made of 6,000 acrylic stems through which fibre optic cables run, each crowned with a clear glass sphere. There are 11 external projectors and each one sends different colours down the fibre to it's circle of stems. The stems themselves hold no electric power at all. The installation covers an area of 60 x 20 meters, using 24, 000 meters of fibre optic cable and is best viewed after dark.
FINE COLLECTION OF CURIOUS SOUND OBJECTS on Vimeo