Spectacle
REDITEC - SITE OFFICIEL. AUDIENS. Un syndicat pour les entreprises artistiques et culturelles. Taux intermittent, site de calcul d'allocations des intermittents du spectacle.
Intermittents. Suivre des stages de perfectionnement, se reconvertir, se qualifier, via des actions de formation plus longues, faire le point sur ses compétences, valider ses acquis professionnels...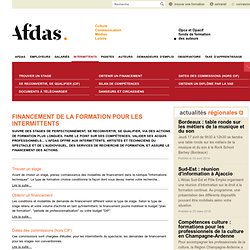 L'Afdas offre aux intermittents, artistes et techniciens du spectacle et de l'audiovisuel, des services de recherche de formation, et assure le financement des actions. Trouver un stage Avant de choisir un stage, prenez connaissance des modalités de financement dans la rubrique "informations techniques". Spectacle vivant en Bretagne. Bruce Munro - Field of Light. Arduino - HomePage. FINE COLLECTION OF CURIOUS SOUND OBJECTS.
Artiste
Vidéo. Son. Festi. Lumière. Divers. Presta. Compagnie.
---