WordPress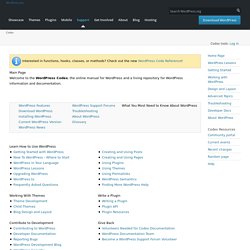 WordPress.org Ready to get started?Download WordPress Codex Codex tools: Log in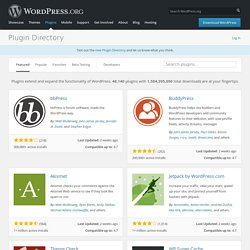 Plugins can extend WordPress to do almost anything you can imagine. In the directory you can find, download, rate, and comment on all the best plugins the WordPress community has to offer. bbPress Download bbPress is forum software, made the WordPress way BuddyPress Download Social networking in a box.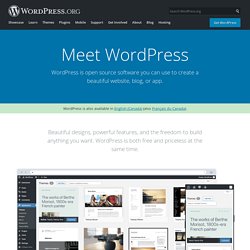 WordPress is web software you can use to create a beautiful website or blog. We like to say that WordPress is both free and priceless at the same time. The core software is built by hundreds of community volunteers, and when you're ready for more there are thousands of plugins and themes available to transform your site into almost anything you can imagine. Over 60 million people have chosen WordPress to power the place on the web they call "home" — we'd love you to join the family.
Advertisement Sometimes it's just like searching for a needle in a haystack: if you've ever googled for free and quality WordPress Themes, you know exactly what we're talking about. Most designers love to create WordPress themes, so they can demonstrate the quality of their work and add some fresh works to their portfolios. However, most WordPress themes are either used too often (Kubrick theme, now K21, is definitely overused) or just have nothing to offer – particularly, if you are looking for a free, impressive and professional design. However, sometimes search is worth it.