Comedy
- StumbleUpon. Midnight in Paris Woody Allen's latest places starving writer Owen Wilson in Paris with his fiancée, Rachel McAdams.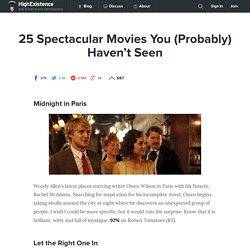 Searching for inspiration for his incomplete novel, Owen begins taking strolls around the city at night where he discovers an unexpected group of people. The Ultimate Movie Drinking Game List! | MovieBoozer - StumbleUpon. Top 10 Websites To Watch Movies Online For Free Without Downloading - StumbleUpon.
It is easy to watch FREE movies online from China here, since there are many video websites for you to do that, but outside China, there may be not many video websites to watch movies online for free, because of the Copyright thing.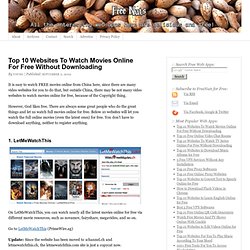 However, God likes free. There are always some great people who do the great things and let us watch full movies online for free. Below 10 websites will let you watch the full online movies (even the latest ones) for free. You don't have to download anything, neither to register anything. 1. - StumbleUpon. 90s Megamix. Exciting Links for Boring Days - StumbleUpon. Robot For President YouTube - Hitler Banned From iSketch!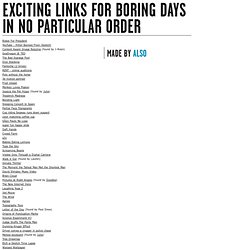 Content Aware Image Resizing (found by J-Roen)SeaDragon @ TEDThe Bad Signage PoolDice StackingFantoche (2 times)RENT - online auditionsPolo without the horse3d motion portraitFruit VesselMonkey Loves PigeonJessica the Pet Hippo (found by Julia)Treadmill MadnessBending LightSleeping Concert In SpainPartial Face TransplantsCop riding Segway runs down suspectcolor matching coffee cupSão Paulo No Logosuper fun happy slide Daft HandsCrowd FarmzZzBabies Eating LemonsType the SkyScreaming BeansVisible Only Through a Digital CameraWalk it Out (found by Lauren)Inmate ThrillerThe Moment the Tallest Man Met the Shortest ManDavid Shrigley Music VideoBrain CloudPictures at Right Angles (found by Doodles)The New Internet HeroLaughing Yoga 2Jed MovieThe WindApneeTypography ToysLetter of the Day (found by Paul Drew)Origins of Punctuation Marks.
Party Rules - StumbleUpon. Blog Archive & 15 Funniest Wrong Number Texts of 2011. The 15 Best Staged Splash Mountain Photos - StumbleUpon. I Love Sonic. Husband banned from Target - StumbleUpon. Husband banned from Target After I retired, my wife insisted that I accompany her on her trips to Target.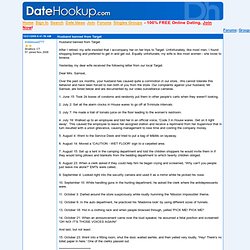 Unfortunately, like most men, I found shopping boring and preferred to get in and get out. Equally unfortunate, my wife is like most women - she loves to browse. Yesterday my dear wife received the following letter from our local Target.
---