Sites de référence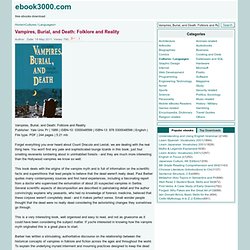 Vampires, Burial, and Death: Folklore and Reality - Free eBooks Download
Author: , Date: 18 May 2011, Views: 508, Vampires, Burial, and Death: Folklore and Reality Publisher: Yale Univ Pr | 1988 | ISBN-10: 0300048599 | ISBN-13: 978 0300048599 | English | File type: PDF | 244 pages | 5.21 mb Forget everything you ever heard about Count Dracula and Lestat, we are dealing with the real thing here.
10 Worst Vacation Stories
11/1/2010 under Strange Stories - by Grace Murano - The tourist who was trying to take a picture from the shore and fell to her death down a cliff A woman fell to her death in South Australia's south-east while trying to take a picture of the rocky shore at Cape Douglas, about 25 kilometres from Mount Gambier.
A fallacy is incorrect argument in logic and rhetoric resulting in a lack of validity , or more generally, a lack of soundness . Fallacies are either formal fallacies or informal fallacies . [ edit ] Formal fallacies A formal fallacy is an error in logic that can be seen in the argument's form . All formal fallacies are specific types of non sequiturs . Appeal to probability – takes something for granted because it would probably be the case (or might be the case). [ 2 ] [ 3 ] Argument from fallacy – assumes that if an argument for some conclusion is fallacious, then the conclusion itself is false.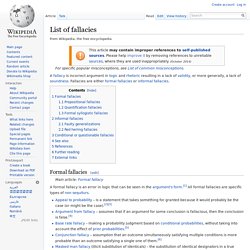 The Real 'Stuff White People Like'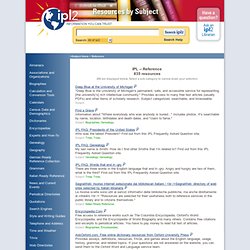 2 -- Subject Browsing
IPL -- Reference 838 resources 200 are displayed below. Select a sub-category to narrow down your selection Deep Blue at the University of Michigan "Deep Blue is the University of Michigan's permanent, safe, and accessible service for representing [the university's] rich intellectual community." Provides access to many free text articles (usually PDFs) and other items of scholarly research.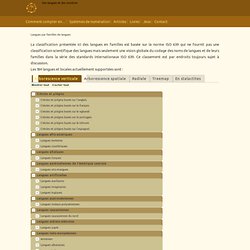 Langues par familles de langues – Arborescence verticale
Des langues et des nombres Langues par familles de langues La classification présentée ici des langues en familles est basée sur la norme ISO 639 qui ne fournit pas une classification scientifique des langues mais seulement une vision globale du codage des noms de langues et de leurs familles dans la série des standards internationaux ISO 639. Ce classement est par endroits toujours sujet à discussion. Les 178 langues et locales actuellement supportées sont :
By LERA BORODITSKY The Gallery Collection/Corbis 'The Tower of Babel' by Pieter Brueghel the Elder, 1563. (Please see Corrections & Amplifications below .)
Travailler en Suisse - le blog de David Talerman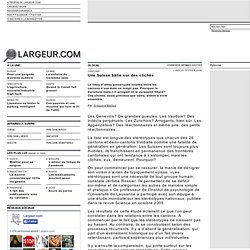 Le tissu d'idées préconçues nouées entre les cantons s'use mais ne rompt pas. Pourquoi le Zurichois reste-t-il arrogant et le Jurassien fêtard? Ces clichés, aussi précieux que vains, aident à vivre ensemble. Les Genevois?
Une Suisse bâtie sur des clichés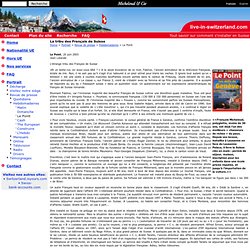 La tribu des Français de Suisse Home > Portrait > Revue de presse > Hebdomadaires > Le Point Le Point , 20 juin 2003 Jean Lalande L'étrange tribu des Français de Suisse «Et un botte-cul, en avez-vous tâté ?
La tribu des Français de Suisse
Frog You — Blog d'un Français expatrié en Suisse
Surréaliste! Nazis, pilotes américains et réfugiés juifs se croisaient dans les rues et maisons de santé de la commune grisonne pendant la guerre! Le film de Danielle Jaeggi, «A l'ombre de la montagne» raconte ce pan de l'histoire suisse. Par contre il y a des révélations qui ne font pas le bonheur de tous.
Particularité helvétique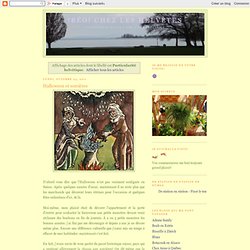 La rumeur, par Pascal Froissart (sociologie de la rumeur, psycho
I can't get enough of illustration. I hope you're getting your fill too, you can read the other posts Illustration and the Illustrations of Edmund Dulac (check it out). You don't have to take my word for it; there are oodles of illustration resources at your fingertips. I've been getting into the public domain for some time now, and it's absolutely filled with images of all kinds for you to use any way you see fit.
Old Book Illustrations: Forgotten Treasures - Associated Content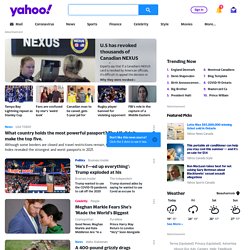 Email Self-reliance is a vital key to living a healthy, productive life. To be self-reliant one must master a basic set of skills, more or less making them a jack of all trades. Contrary to what you may have learned in school, a jack of all trades is far more equipped to deal with life than a specialized master of only one. While not totally comprehensive , here is a list of 50 things everyone should know how to do.
A very simple guide to leaving here quickly so you can get back to making something awesome. Ask yourself… Why am I here right now instead of making something cool on my own? What's the barrier to me starting that right now? This is not an insult or put-down. It's a useful question.