Receipes
Make Your Own Ketchup, Mustard, Mayo … | Farmers' Almanac - StumbleUpon. Why spend a lot of money this summer on condiments from the grocery store that are, in most cases, loaded with corn syrup, artificial flavors, and preservatives?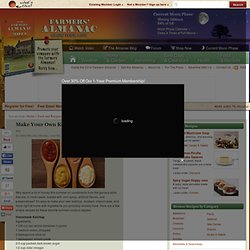 It's easy to make your own ketchup, mustard, mayonnaise, and more right at home with ingredients you probably already have. Here are a few simple recipes for these favorite summer cookout staples: Homemade Ketchup Ingredients: 1 (28-oz) can whole tomatoes in purée 1 medium onion, chopped 2 tablespoons olive oil 1 tablespoon tomato paste 2/3 cup packed dark brown sugar 1/2 cup cider vinegar 1/2 teaspoon salt. Serious Eats: A Food Blog and Community. Apple Nachos! I have no clue where I originally saw this idea years ago–but in today's blogging world, apple nachos have become just about as ubiquitous as raw ballz… But, there may still be a few folks remaining who aren't tuned into all the apple nacho hoopla.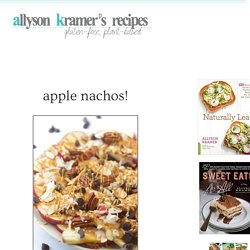 If you've never tried them, give 'em a whirl! Reese's Peanut Butter Banana Bread. You know when you think something just can't get better?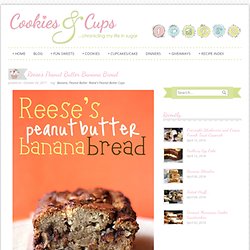 Or when I got my first cell phone…with the awesome antennae… What about the M&M? The original was so delicious..then they decided to make the Peanut Butter M&M…and then the Pretzel M&M…and things got better. Or even my first ipod, which wasn't even that long ago… Pumpkin Monkey Bread. September 23, 2011 | Print | E-mail | Filed under bread, pumpkin Monkey bread.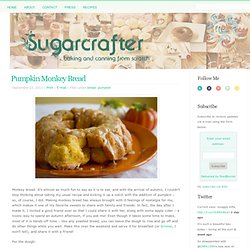 It's almost as much fun to say as it is to eat, and with the arrival of autumn, I couldn't stop thinking about taking my usual recipe and kicking it up a notch with the addition of pumpkin – so, of course, I did. Making monkey bread has always brought with it feelings of nostalgia for me, which makes it one of my favorite sweets to share with family and friends. In fact, the day after I made it, I invited a good friend over so that I could share it with her, along with some apple cider – a lovely way to spend an autumn afternoon, if you ask me!
Even though it takes some time to make, most of it is hands-off time – like any yeasted bread, you can leave the dough to rise and go off and do other things while you wait.
---